With lockdown coming to an end, the bookings just keep on flooding in – not that we have any complaints about that! For all of us here at Hog Roast Edlington, heading to work is never a chore, and we will never take your custom for granted because being invited to take part in your celebrations (no matter how big or small they are) is always an immense privilege for our team.
Connecting with people over a shared love of great food is one of life's simple pleasures in our book, and even more than that, we love being able to impress our customers, clients and their guests with our out-of-the-box menu items and serving styles that when combined, have the power to make any event feel extra special. But with so many choices available, how do you know which menu to pick?
Well, we've thought of that too, and here to help you choose the perfect menu for your needs is our Hog Roast Edlington catering manager, Rob! With plenty of industry experience and a keen eye for detail, there's no better person to point you in the right direction than Rob. And when Danielle called to discuss the details of her booking for an 18th birthday party, he was quick to come up with the ideal solution – the Southern Slow Roast Menu.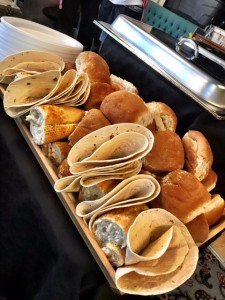 Drawing inspiration from some of the best-loved recipes that America's Deep South has to offer, this menu features a selection of rich, hearty foods that are always a huge hit among the younger generations. Knowing that her son, whose birthday it was, would also love this spread, Danielle agreed to go ahead with the booking of this menu, and from the options available, she chose fall off the bone Louisiana sticky pork ribs, BBQ pork butt, and Cajun-spiced whole roast chickens served with boozy Bourbon BBQ sauce, a sweet glaze and a fiery hot pepper sauce; followed by 'slaw, loaded fries, salad and buttered sweetcorn.
The party went ahead as planned following the most recent lockdown easing date, meaning 30 people were able to enjoy the delicious feast that Hog Roast Edlington cooked up – and boy, were they impressed!