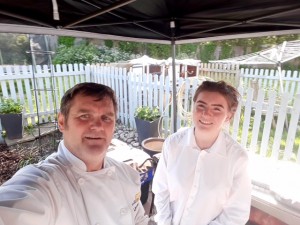 We feel that the delicious food we provide is some of the best available in the country and we aim to put Spitting Pig Lincolnshire, hog roast catering, firmly on the culinary map. The most important thing for is the taste of food. We believe the hog roast that we provide is the best around.
My name is Rob and I own Spitting Pig Lincolnshire. I have been in the catering industry for a significant number of years now, working my way up to being a head chef in the army, catering for thousands day in day out. This is where my high standards of presentation, service and professionalism has stemmed from. My whole family have embraced Spitting Pig Lincolnshire, my wife, son and daughter are all part of the team and we love what we do.
A combination of the finest meats, state of the art machines and our fully trained chefs results in mouth watering food for everyone to enjoy. With a great selection of menus available you can decide what you want your hog roast to be served with. The best thing about a hog roast is that it can be dressed up or down making it suitable for all levels of formality. And there are no restrictions on what type of meat that we provide. Whether you are looking to cook a traditional roast beef dinner or have spit roasted pig at a barbecue do it all. No matter what meat you choose the end product will be same; mouth watering and deliciously tender meat for everyone to enjoy.
A Timeless Catering Tradition
And it is not all about the delicious food; it is the experience of a spit roast that is unique. We help to create a warm and authentic atmosphere at any event by spit roasting your meat in front of your guests. This is an unrivalled dining experience and what better way to whet the appetites of your guests than have their food slowly spinning and cooking in front of them. The sight and smell of a hog roast is unlike any other form of catering. Our delicious food teamed with our excellent service, staff and machines is the perfect solution to all your catering needs. We make sure that the food for your event is perfect and that you and all your guests are blown away at the quality of service that we provide for you. Here at Hog Roast Lincolnshire we cater for the entire county. Whether you're having a hog roast Mablethorpe event, a family party in Gainsborough or organising a charity event in Boston, we have it covered.
We are very proud to be able to cater for the beautiful county of Lincolnshire and with major events such as the Lincoln Markets we want as many people as possible to be able to experience our mouth watering hog roasts. One of the most famous things that Lincoln is known for is its markets. Whether they are the regular farmers markets or the famous Christmas markets they attract thousands of tourists every year to the area. There is no event too big or small for us, we aim to please. Whether you've just finished a round at the famous Skegness golf course and are in need of catering for you and your friends or you've a long day shopping at the markets and you are looking for something to eat, we've got it covered. We aim to make our food as famous as the town we cater for.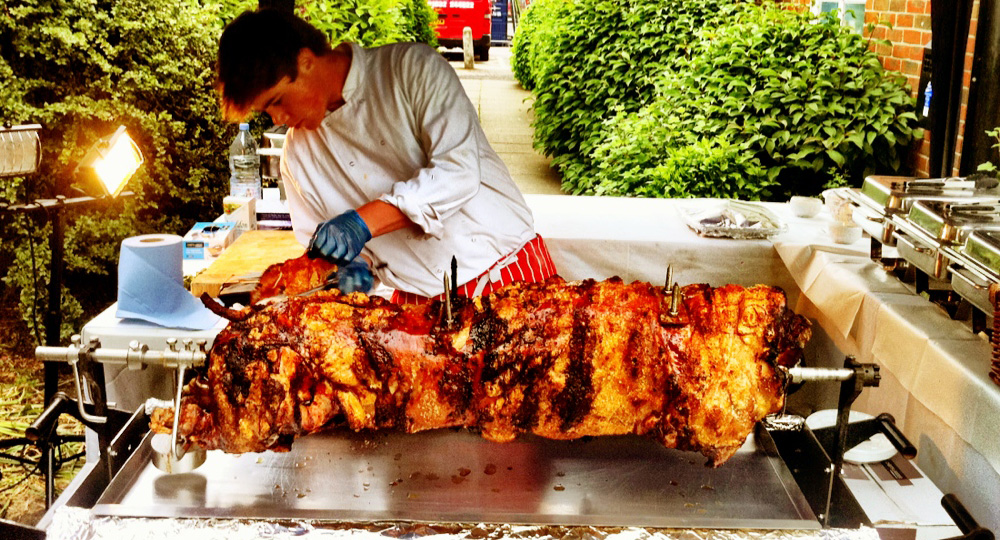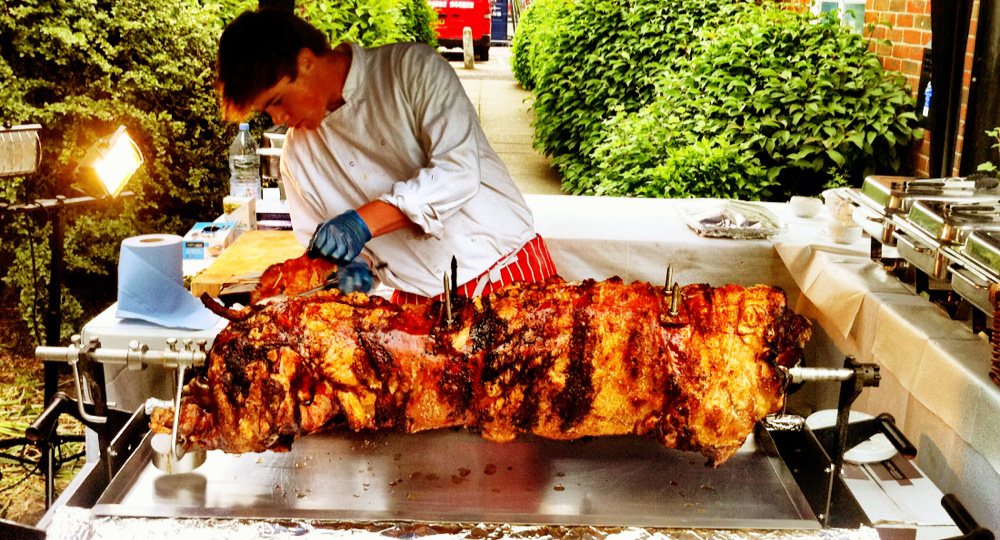 Spitting Pig Lincolnshire is a professional catering company specialising in hog roasts and BBQ's across Lincolnshire. We can cater for anything from small informal parties and corporate events through to large formal banquets and weddings. Here at Hog Roast Lincolnshire we believe we have a range of menus to suit every occasion but can also provide a bespoke menu to your exact requirements if you prefer. All our staff are experienced in their area of expertise and hold the relevant food hygiene qualifications and we hold full liability insurance. The quality of our equipment and our staff along with many years of experience in the catering and Hog Roast business allows us the confidence to claim we can provide a catering experience second to none. All our Hog Roast Machines are CE Approved and comply with all environmental health requirements and are gas tested and certified on an annual basis. Our fully equipped gazebos and gas operated machines mean we can cater for parties outside in the middle of a field if required. But we are equally capable of catering within a customer's premises, the hog roast machines we use are safe to be used within the confines of a hall, function room or inside a marquee.
Efficient Catering Teams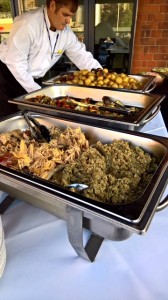 On accepting one of our Party / corporate menus we will discuss your exact requirements and understand factors such as location, venue, access issues and service times. On the day of the event we can come along 6 hours prior to service to cook your chosen meat and prepare any side dishes on site or alternatively we can arrive 1 – 2 hours before service time with your chosen meat already cooked. With our wedding menus and larger parties or corporate events we can meet with you personally prior to confirming your booking to discuss the menu options and services included in detail. We will gain an understanding of your exact requirements on the day of the event and view the venue if possible, providing assistance with the layout plan and planning of the day. In the case of a wedding, on the day of your wedding we would arrive in plenty of time prior to service start. Our chefs will cook your chosen meat and prepare all side dishes, canapés, deserts etc on site whilst our waiting staff will lay all the tables, table arrangements as well as the wine and water as required.
[+ show][- hide]