How long does it take to cook a hog roast?
It takes on average 6 hours to cook one of our roasts. When we cater for your party if you have selected a menu which includes one our chefs they will arrive around 6 – 8 hours before the party starts to begin cooking your hog roast.
We are having a very large wedding with a lot of guests, is there a limit as to how many hog roasts we can hire?
Not at all, as long as you let us know how many people need catering for then we will arrange the catering for the day accordingly. There is no job too big or too small.
What happens if something goes wrong when hiring one of your machines?
All of our machines are the best around. They come with full instructions and if you are still facing problems we also leave you the contact details of one of our professional chefs who are there to help whatever the problem.
We are hosting a party which will last right through the night, is there a time limit when using your chefs and waiters?
If your party last till the early hours then we are more than happy to stay the duration. If people still need feeding and serving then we will still be there.
Will we be required to tip the waiters/waitresses?
If we are providing waiting on staff, their wages are factored into the price quoted. All our staff our fully trained and of the highest standard and will not expect to be tipped.
We are having a buffet, what happens to any leftover food?
All the food provided for the event is yours. We will work with you to ensure how you want to deal with any food left after the event. We are happy to plate it up for you and leave it for your convenience or should you prefer we can dispose of it for you.
Will you need access to electric or gas?
Not always. Our hog roast machines are run off gas which we bring. Sometimes, access to an electric socket is appreciated but not always necessary.
Can you provide alternatives for the young children in our party?
With over 20 years experience as professional caterers we understand that 'one size doesn't fit all'. With that in mind we can provide a wide and varied menu including children's meals and vegetarian options.
Fresh Delicious Food And Service That Sparkles
When we provide catering for your Caistor hog roast party or you hire one of our machines we want to keep you in the know. We aim to make sure that your event runs smoothly and make sure that you don't have to worry about anything. The last thing we want is for you to feel unsure about any of the details of your catering or Saxilby hog roast machine hire so please do not hesitate to ask, there are no silly questions, we're here to help.
Before we cater for your event we will contact you directly to finalise all of the arrangements. We will discuss the location, the amount of people, the menu of choice, and arrange the date and times. When arranging your catering we aim to provide piece of mind. We want to you to feel confident about the arrangements and place your trust in our hands. If there are any changes that you wish to make then just let us know. We will try to accommodate them and cater for your needs to the best of our ability. Whether you are having a wedding or barbeque, catering for 50 people or 500 people; we have it covered.
If you are using us to provide the catering for your day and have selected a menu that includes chefs and waiters then we guarantee that everything will run according to plan. Our professionally trained hog roast chefs and waiters will be there to help for the duration of your day and will be more than happy to answer of the questions that you have. We make sure that all our staff are friendly and approachable and have a good knowledge of the industry. They are there to help and make you feel comfortable.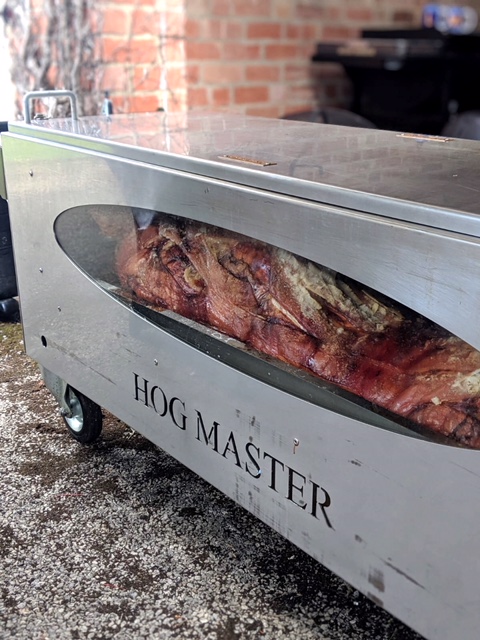 One thing that is often a big worry for people is hiring a hog roast machine; especially if it is your first time at doing it yourself. There's no need to worry. Like we have mentioned before, all our machines are of the highest standard and come with instructions that we recommend you read before using one of our machines. As well as this when we deliver your machine we will leave you with the contact details of one of our professional chefs who will be on call for you. If you face any difficulty then do not hesitate to call. Our professional chefs know the machines inside out and will be able to solve any of your problems. There is no need to panic because we are just at the other end of the phone to help.
The most important thing for us is to provide you with delicious food and top quality service. We aim to meet all your requests and answer any questions that you may have when using us for your catering or whether you are hiring a machine from us. Organising any kind of event is very difficult and we want to help make the entire experience less stressful for you. There is no reason why you should be worrying all day when all your guests are having a good time. Just sit back, relax and enjoy the good times.
We pride ourselves on providing a bespoke service to our customers and recognise that their tastes can vary widely. From the start we work closely with their hog roast requirements to ensure that they can enjoy their event, whether it is an informal buffet or a formal dinner with table service.