Hog Roast Scampton was recently approached by the aptly named bespoke wedding planning and event specialist, Unique Occasions, who had been tasked with organising the reception party for a bride and groom who had their hearts set on a luxurious hog roast buffet to suit the rustic Loversall Farm venue they had booked for their big day. With an endless list of combinations to choose from, the client couldn't have come to a better place and at the recommendation of our skilled catering manager Rob they opted for our exquisite hog roast dining menu with additional courses to ensure that all 120 guests would have their cravings satisfied.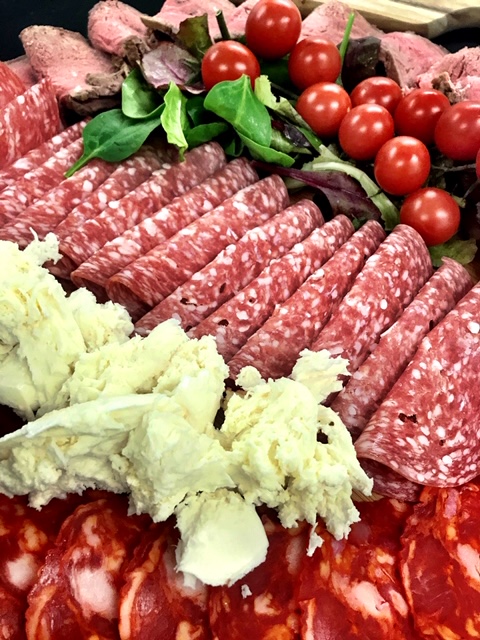 Keeping the couple's best interests at the forefront of all their decisions, Hog Roast Scampton and Unique Occasions worked together to come up with an entirely custom menu which combined our famous slow roasted pig, applesauce, stuffing and crispy crackling with an antipasti platter, a stunning seasonal vegetable medley, fluffy roast potatoes and a duo of scrumptious desserts which was sure to tickle the taste buds of even the fussiest of guests! Hoping to add an air of elegance, and ensure that the event felt even more special, Rob had also organised for real China crockery and cutlery to be used in place of disposables which the happy couple were ecstatic to hear about.
With the preparations finalised and everything in place for the monumental event, Hog Roast Scampton made the trip to the charming courtyard marquee which had been decked out with crisp white tablecloths, whimsical fairy lights and leafy garlands. Noticing an open space near the back of the structure, Rob and the hog roast team threw themselves into their catering duties and by 3:30 pm they had successfully whipped up bountiful platters of sliced meats, enticing tomatoes and freshly-made breads as well as an irresistibly juicy pig with all the trimmings.
Upon making their eagerly-awaited entrance, the newlyweds took a moment to capture the breathtaking scene before joining their guests in filling up their plates with generous servings of the wholesome food which quickly became a hit among the entire wedding party. As the evening drew to a close, everyone was keen to enjoy one final indulgence and what better treat is there in life than our homemade cheesecake and sticky toffee pudding desserts?