Catering for Grimsby's high-profile engineering consultancy firm, Allied Protek has become a bit of a festive tradition for our team here at Hog Roast Louth. For 3 years running, our hands-on events crew has been invited to host the client's annual office Christmas party which sees the 60 members of staff enjoy a much needed night of fun before stepping into the new year. When the time for this year's event came around, we received a call from Emma who was keen for us to serve our crowd-pleasing classic hog roast menu which according to her, they had been looking forward to all year long! Pleased to have left such a positive and lasting impression, catering manager Rob took the reigns on the event and once again relieved the client of any stress associated with planning a corporate do.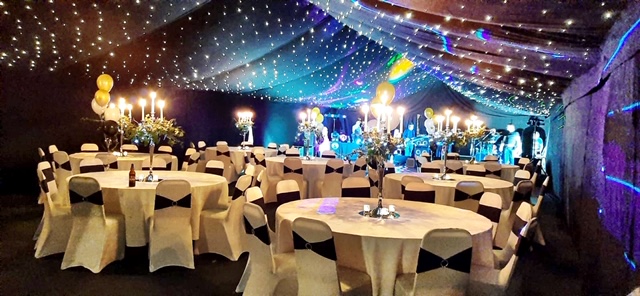 Having already experienced our unrivalled services twice before, Emma was happy to let Hog Roast Louth organise the party with very little interference outside the original briefing. Hoping to spice up the menu and make it more inclusive for everyone, Rob had decided to add a pair of meat-free alternatives as well as a potato side dish which the guests were sure to appreciate.
With a busy day ahead of them, Hog Roast Louth arrived at the company's headquarters where their first call of action was to erect the marquee and set the tables with crisp white tablecloths and the floral centrepieces which had been arranged by Emma. Adding an air of elegance, the team adorned the roof with strips of fairy lights which made the atmosphere feel even more festive and magical.
Turning their attention to the food, the catering crew lovingly prepared the whole slow-roasted pig with savoury stuffing, crispy crackling, applesauce and a side of new potatoes in a herb butter. For those following plant-based diets, there was also the added alternative of grilled veggie skewers with optionable haloumi which went down a storm – even among the meat-lovers. Once again, Allied Protek were blown away by the finger-licking buffet that Hog Roast Louth served and they're already looking forward to next year!