The Night Of Their Lives
Today we headed down to Spalding in the county of Lincolnshire to celebrate 20 years since their big day, their marriage. Upon arrival we had two enormous pigs to season and prepare for the Hog Roast in Spalding which would each take seven hours to cook, so we had to be ready early to be on time for a seven o'clock serving. We set our cooking gazebo up outside in the venues beautiful sprawling gardens filled with wildlife, but we were thankful for the machines warmth in the cold conditions.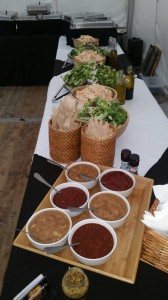 To go with the roasted hogs, we also prepared other delectable dishes for the guests including pork, various salads, roasted and buttered new potatoes with garlic and rosemary seasoning and homemade apple coleslaw. Even though we had to make a large quantity of food our chef is always well prepared and organised and his experience shows in the amazing quality of the dishes. Our guests wanted to have their meal between seven and half eight meaning we had to make sure to serve quickly. As a result we set up two serving stations in another gazebo to make sure people got their food faster, making things fast and allowed time for guests to come back for seconds. They all paid testaments to just how delicious our food was. The atmosphere was wonderful and the aroma spreading across the area was heavenly.
Our hog melted in the mouth and had the perfect level of tenderness after a slow 12 hour cook in its own juices and the choice is given of either loin, shoulder or back end all with a unique taste and texture. However on this occasion our pork stole the show. We offered three different flavours all of which made the tastebuds tingle all of which had been marinaded overnight to add even more flavour. It left the guests spellbound! Our crackling was also perfect, crunchy and with the smallest hint of saltiness as well as having an appealing golden colour. It was truly hard to resist! Everything went perfectly and the bride and groom had the perfect meal to top of their perfect and beautiful day.