Maybe it's the romantic in me, but I have a soft spot for catering for weddings. Each year, we seem to book more and more of them and I honestly never get tired of them. I always really enjoy being part of a couple's special day and adding to the whole enjoyment by providing great food and a great experience. We believe in quality and freshness, so the food is never pre-prepared. The great spectacle of a spit roast is a big part of your celebration, so we arrive with raw, fresh, local meat and it's cooked right in front of you and your guests.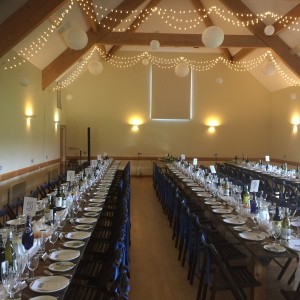 Surprisingly, John and Melanie's wedding in Wragby that we provided the food for was on a weekday and it was a midweek day at that. While most couples do tend to plan their special day for a Saturday (as we've noted from experience), some do marry on other weekend days and occasionally on a weekday but few do so in the middle of the week. It makes no difference to us, as we can cater for your marriage celebration any day and any time of day. The happy couple just happened to choose last Wednesday 🙂
For weddings, we offer different packages, with several spit roasted meat choices. Whether it's pig with apple sauce, spring lamb with mint, whole turkey with cranberries, free-range chicken or sirloin of roast beef, you can be assured of great taste and quality. We provide different options to suit different budgets, so you could be enjoying a lovely roast with potatoes and salad or a fancy sit-down menu, starting with canapés and finishing with one of our scrummy desserts.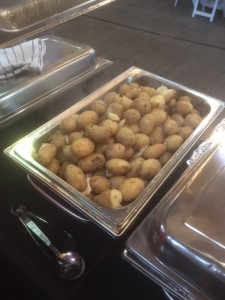 John and Melanie decided on a simple yet tasty buffet menu, including a spit roasted sirloin of roast beef, instead of a hog roast in Wragby. We served this with horseradish sauce, Yorkshire puddings and a special red wine gravy. Several guests here required a vegetarian dish, which we can always provide, and in this instance, it was a delicious homemade Spanish quiche. To accompany the main dishes, our team served warm new potatoes in a herb butter and fresh seasonal vegetables. The meal was finished off brilliantly by the stunning tiered wedding cake that the mother-of-the-bride had lovingly made for this special couple's day.