Recently, we catered for a lovely little engagement part in Alford. The couple was understandably very stressed out about the party, and we were more than able to relieve some of that stress for them by talking them through our extensive menu and helping them decide what foods they wanted. In the end, they opted for the lovely slowly roasted hog served as an informal outdoor buffet perfect for their party.
As always, we arrived at the venue in plenty of time, and we were able to have a pleasant conversation with the couple that hired us. They told us that this was the first party they had thrown as a couple and were a bit apprehensive about something going wrong. We assured them that we wanted to help them out in anyway possible so we set up our station in their quaint back garden so as to get to work cooking the delicious food. The sun shone down on us as we worked hard to make the food as delicious as possible, we knew that the good whether was a sign that the party would be a success.
It was a wonderful day on the whole; we listened to some adorable yet tear-jerking speeches about the happy couple, and whilst we cooked we could hear the guests chatting between themselves about how good the food looked and smelt.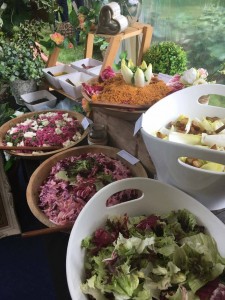 The buffet included our fresh and crisp salad, special sauces and mouth-watering potatoes; so we have to admit that the menu was looking good. Guests were starting to form a queue as we were plating up the buffet table with the delicious salads, breads and meats. By the end of the day all of the guests were more than satisfied with their meal (or two for those who had seconds!), and we were so grateful to receive lovely compliments from so many friendly people.
As we were quietly cleaning up after the partygoers, some of the guests started to get a little bit merry making us laugh with their stories about the couple as we loaded our catering van up. Before we left a few people took a business card for parties and events they had coming up. We are always delighted when this happens because it means that we've been successful. We congratulated the hosts once more, and then we left everyone to enjoy the party; as we travelled back to base we knew that we had pulled off another successful party with our spectacular Hog Roast in Alford!