Enjoying a hog roast at your party, wedding or corporate event is a wonderful, unique twist. Instead of having a more traditional kind of catering, you can impress your guests to no end with the sight of a pig roasting away, sizzling in its own juices and filling the air around you with the most amazing smells. We can actually cook indoors as well as outdoors, so no matter the weather, your guests both young and old can be wowed with the impressive spectacle and, of course, the truly delicious tastes of the juicy inside and the crispy outside.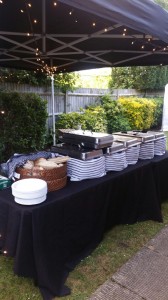 When Cameron called us to book a surprise hog roast  in Walcott for his father's birthday a while back, he asked if it was at all possible to cook a very small pig for a small amount of guests. Whether it's a handful of people or even thousands of guests, we can accommodate any of your catering needs, so this was more than fine. There would be around 10 guests at the party, and even with the smallest hog, there would be more than enough food for seconds and there would be leftovers, too. As Cameron's father's favourite meat was pork, he said that leftovers would definitely not be an issue!
Being quite an intimate gathering, I could cater this celebration all by myself, so I arrived at Cameron's house early on Sunday, armed with my trusty hog roast machine, a gazebo and my serving station, as well as the food. I'd brought along a suckling pig and some nice and soft bread rolls so that I could make the guests hog roast rolls (which we call 'pigs in buns'). As well as the hot meat slices and pieces of crackling, we add our special homemade apple sauce and stuffing to the rolls and also bring along condiments in case the guests want to complement their sandwiches with any extra flavours.
Before Cameron's father walked into the back garden, he could actually smell his surprise hog roast in Walcott, which was now resting and ready to be carved. By the time he saw the spectacle, he was smiling from ear to ear and couldn't wait to tuck in.