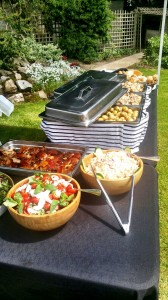 There's nothing quite like the taste of a locally-sourced, quality hog that's been cooked fresh in front of you. The hot pieces of melt-in-the-mouth meat, succulent and tender from several hours of roasting, and the skin turned into salty crackling, all crispy and crunchy. Then stuff the meat slices and pieces of the crackling into fresh floured bread rolls, together with our tangy apple sauce and homemade stuffing, and you have our famous 'pigs in buns'. That's just what Dina and Andrew ordered when they booked us to cater their engagement party over the weekend, as well as some garden fresh salads and baked potatoes for the veggie guests.
I arrived at the couple's grand home nice and early on Sunday morning, as service would be early afternoon for around 50 guests, and it takes several hours to roast a hog. My team would be joining me later. The summer rain had let up thankfully, even though we can still cater for functions in all types of weather, including rain or even snow. We have gazebos and marquees that we can provide, and we can even cook a hog roast Ewerby indoors in a large space if it is well-ventilated. For this party, however, there was plenty of room in the large back garden, and it was a warm and sunny day, so I had the hog roast machine sheltered under a gazebo.
After prepping the pig for cooking, I turned the machine on and watched over it as it roasted slowly but surely. As it cooked, I added the baked potatoes and watched the garden being transformed into a romantic, magical forest, with decorations hung from the trees and delicate lights placed everywhere. I could see from their faces as they held hands and watched the transformation themselves that Dina and Andrew are clearly in love, and my heart melted just as the rest of my team arrived to help me prepare the salads fresh and dish out the sauces and stuffing.
It was soon time for the guests to start pouring through the gates, drawn to the lovely smells of our delicious hog roast in Ewerby, and we got ready to serve the hungry hordes.