Staying home is the new going out, but with the help of Hog Roast Ulceby Cross, you don't have to miss out on any of the fun! Whether you've got a birthday party to plan or a wedding to organise, (or even if you are celebrating just for the fun of throwing a party), don't worry because we have a menu to suit your every need! Don't believe us? Check out our testimonials which were written by real people just like you who were looking to make the most out of their events!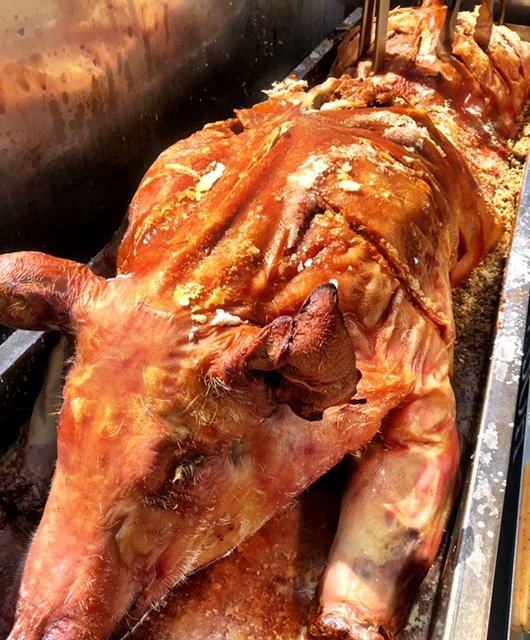 For Hog Roast Ulceby Cross, there's nothing better than helping people, so when Arthur called us to ask if we had any free slots coming up, we couldn't wait to find out what kind of event he had up his sleeve. As it turned out, Arthur and his wife Charlotte were expecting their first child together, and he wanted our help to surprise her with a baby shower!
Having already invited 30 members of their family and close friends to the celebration, Arthur just needed some advice on which of our menus would be best for the day. After some consideration, it was decided that our private party menu 3 would be the ideal spread for the occasion since it incorporates an abundance of side options and veggie alternatives for any non-meat-eating guests. Best of all, it's served as an informal buffet, meaning the food can easily be slotted into the background of an event without taking away from the main focus, which at this event was Charlotte and her growing bump.
Arthur was so pleased with our recommendation and could barely contain his excitement! Fortunately, he didn't have to hold his tongue for long, and last Friday we shocked the mum-to-be by arriving on the couple's doorstep with all of our catering gear.
Charlotte was speechless (to say the least!) as Arthur explained what was going on. Meanwhile, the Hog Roast Ulceby Cross team threw themselves into preparations for the afternoon, and just in time for the arrival of the guests, our gazebo had been filled with a selection of fragrant dishes which were centred by one of our show-stopping spit roasts.