The latest event Hog Roast Tetney catered was a corporate lunch. The team made for 100 people, while adhering to the COVID-19 safety precautions. This included maintaining distance between Catering Manager Rob and the guests, and setting up a hand sanitising station at the start of the serving table, so the guests could clean their hands before helping themselves to the delicious buffet.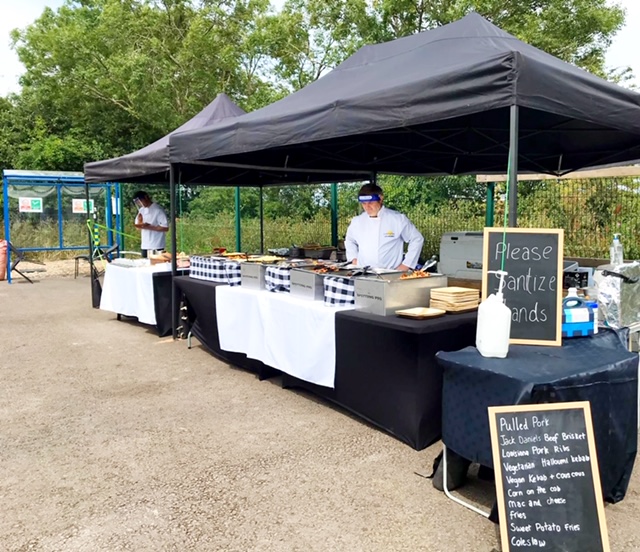 The clients were none other than VolkerInfra and they wanted only the best for their 100 guests. They worked with the Hog Roast Tetney team to put together a menu that was full of lots of tasty treats for all dietary requirements, meaning that the buffet would have something for everyone.
Catering Manager Rob arrived at the VolkerInfra offices to set up the cooking equipment and catering gazebo several hours before the start of the staggered serving time. The food was all cooked freshly in the hours leading up to the 12 Noon start of the staggered service time that would continue until 3pm, so that social distancing measures could be observed.
The buffet that Rob from Hog Roast Tetney was a magnificent sight to behold. It was based around the Southern Slow Roast menu. The meat choices at the buffet were: sticky BBQ Pork, lovely beef brisket and delicious slow roasted pork ribs. Alongside these tasty treats there was a whole array of other dishes. The guests could tuck into corn on the cob, fresh coleslaw, sweet potato fries, vegan kebab and couscous and halloumi kebabs. Finally, rounding off the hearty buffet was a big basket of gluten free rolls that were soft and fresh.
Once the guests had cleaned their hands at the hand sanitiser station they could make their way along the buffet serving table. To eat the buffet the guests used high quality, reusable wooden crockery and cutlery that had been provided by the Hog Roast Tetney team.
Once the buffet service finished at 3pm, Catering Manager Rob quickly and quietly tidied away. The clients and guests were thrilled with the catering for the staggered lunchtime service. It was a work lunch to remember.