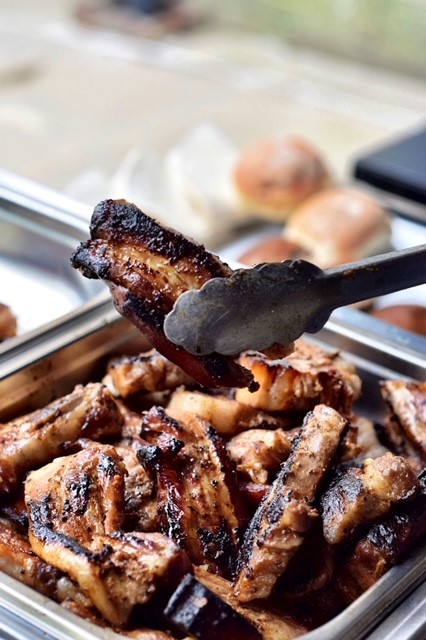 The journey into parenthood is a remarkable adventure, one filled with joy, anticipation, and countless milestones to celebrate. So, for Bryony and Liam, the news of their impending parenthood filled their hearts with excitement, propelling them into a world of endless possibilities and cherished moments.
These days, pregnancy is marked by various events that embrace every step along the way, and recently, the couple reached a very significant pregnancy landmark – the eagerly awaited gender reveal! Opting for the popular trend of a gender reveal party, Bryony and Liam welcomed 40 of their closest friends and family members to join in the momentous occasion. The difficult task of keeping the gender a secret fell upon Liam's mother, Anne, who orchestrated the event with meticulous care.
Ensuring that no one went hungry during this joyous affair, the client enlisted the expertise of Hog Roast Woodhall-Spa. Our catering manager, Rob, took charge, presenting a feast that left taste buds tingling.
Hog Roast Woodhall-Spa's highly popular Southern Slow Roast Menu took centre  stage with a trio of pre-marinated meats – succulent BBQ pork butt, flavourful Cajun-spiced whole roast chicken, and fork-tender minted lamb. For the vegetarian guests, there were mouth-watering grilled vegetable and halloumi kebabs. An array of sauces, including the smoky sweet BBQ glaze, the fiery Cajun hot pepper sauce, and the legendary hickory bourbon BBQ sauce, added an extra layer of flavour to the culinary experience.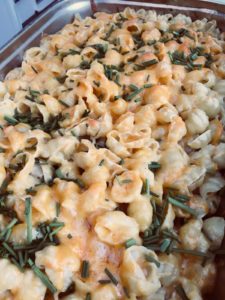 Accompanying these delectable mains were hearty sides – creamy potato salad, sweet corn cobbettes, and indulgent mac and cheese, which created a perfect balance of flavours and textures.
After stuffing their faces, everyone's attention turned to the real reason for the celebration: the gender reveal. Anne presented a specially commissioned cake, a tantalising mystery concealing the secret within its layers. Would it be blue for a boy or pink for a girl? As Bryony and Liam sliced into the sponge, surrounded by the loving gaze of family and friends, the truth was unveiled – it's a girl! The room echoed with cheers and applause, a wave of happiness for the expecting parents.
Hog Roast Woodhall-Spa was elated to be a part of this special event, witnessing the love and excitement that filled the room, and we would like to extend our warmest wishes to Bryony and Liam.