Recently, the Hog Roast Stamford team were offered a fantastic opportunity as a new client approached them to order a Hog Roast to be deliver. However, this was not an everyday Hog Roast for the team as the pig requested was about to become famous as it was going to star on a film set. Yekaterina UK Ltd order the pig to be cooked beforehand and delivered to the location of the set. The pig was going to star at a scene filmed at Burghley House in Peterborough, Stamford where the annual Burghley Horse Trials are held.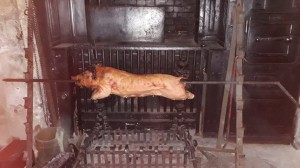 Catering Manager Rob was in charge of preparing the pig. The Hog Roast Stamford team cooked and then chilled the pig, the company had also requested for the Hog Roast to arrive with the head of the pig still on, an option that the team can provide for their clients. The Hog Roast team then delivered the pig to the set on time at 7am sharp on the 22nd November.
It was a fantastic location for the company to be filming the scenes that they required and it was a brilliant opportunity for the Hog Roast Stamford team to be recognised by this client. This particular Hog Roast also helped to boost the publicity of the Hog Roast team and demonstrated the expanding client base of the Hog Roast company.
This Hog Roast demonstrates the versatility of the team's cooking and how the food satisfies a large customer base. In addition, it also shows how authentic the Hog Roast is and how traditionally it is presented as it can be used for a filming set. Moreover, the rustic charm of the Hog Roast is enjoyed by all of the Hog Roast Stamford team's customers and is hired for a huge range of events. Furthermore, this Hog Roast was a delivery Hog Roast and this, therefore, also demonstrates the range of services the team offers. If you are hosting a large event with a huge guests list, then a fantastic grand Hog Roast serviced with puddings and complementary sides maybe perfect. However, if you are only having a casual party, a small menu or a Hog Roast delivery may suit you.