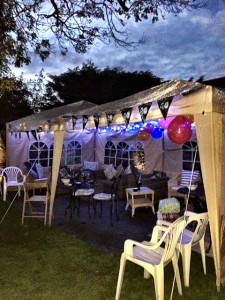 This November, Elaine and John had decided to celebrate their sixtieth birthday together and were having a joint party with their family and friends. They were hosting their party in their garden, however they did not want the stress of cooking for themselves so they decided to hire the Hog Roast Doncaster team to cater for their garden party. They had invited sixty people and, therefore, they would require a substantial buffet in order to ensure that all their guests were satisfied.
The Hog Roast Doncaster team arrived and set up under the supervision of the head chef, Rob. Elaine and John had selected the private party menu offered by Hog Roast Doncaster from which they enjoyed a slow roasted pig served with apple sauce, stuffing and crispy crackling. The food was served with bread rolls which was a perfect fit for the pair's casual party. In addition, the hosts had chosen vegetarian skewers so that there was something for everyone on the Hog Roast buffet.
The Hog Roast team served the buffet as a dinner time meal at 6 pm and the guests thoroughly enjoyed the food and were extremely pleased by the effort that Rob and his chefs put into the buffet. They provided a fantastically friendly service and the cooking and serving of the Hog Roast buffet ran smoothly. Elaine said that they thought the food was delicious and they would definitely recommend the Hog Roast Doncaster team to their friends and family.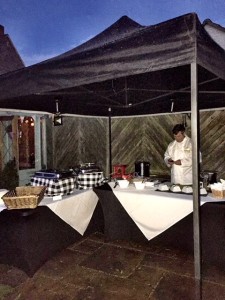 The party came to an end with a fantastic firework display which was enjoyed by all the guests and was a great way to end a brilliant night. The fireworks looked fantastic against the dark sky and the guests managed to capture some great photographs. Elaine and John had an amazing night and were keen to thank everyone involved in making the day really special. They were very pleased with the service they received and would easily choose the Hog Roast Doncaster team to cater for them at their next party. The Hog Roast team is a fantastic way to complete any party of any size as their buffets are diverse in options and also size.