Recently, the Hog Roast Waltham team were hired by Sue for her early birthday party and she selected a more luxurious catering experience from the team. She had invited fifty guests and so it was quite a large party that the Hog Roast team would have to work hard to cater for. The party was to be held at an external venue and Sue had chosen the Hog Roast team to cook the food on site and serve the food as a meal, rather than buffet, inside the venue in the dining area so the guests could enjoy the food at their tables.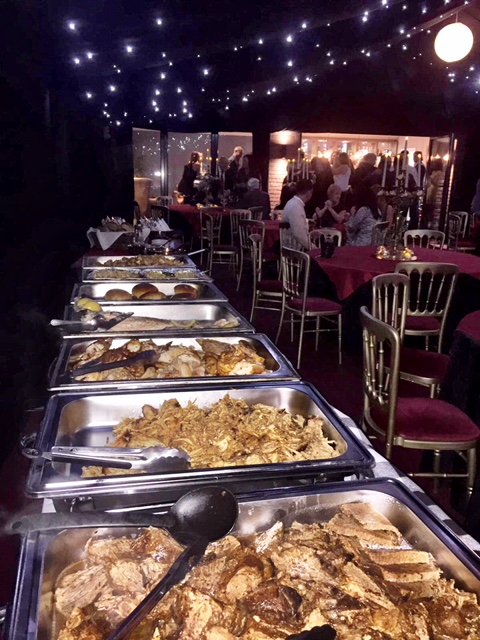 She had selected the Southern Slow Roast, a great option for a large group of people as it offers a huge variety of meats and sides that can suit guests of all different tastes. The more luxurious option served the food on china plates to give Sue's birthday party that element of luxury. The meats on offer ranged from pork and beef, to chicken and everyone found something they loved on the menu. A brilliant variety of sides ranged from coleslaw and Greek salad that complimented the meats well. In addition, the Hog Roast Waltham team offered some more substantial sides such as Mac and Cheese and potato wedges as they gave the buffet a bit more of a meal like feel. Sue also selected an additional Salmon for those of her guests that preferred fish.
The service was led by the Hog Roast Waltham team's catering manager, Rob, who did a fantastic job of leading his staff through the service. He ensured that all of the food was cooked to perfection and that everything was ready on time. Furthermore, they sliced all the meats professionally and laid all the food out in a luxurious manner. Moreover, the food was served to the guests who ate the food as sit-down meals at large tables so it was essential that the food was presently beautifully as the teams served it onto the plates. Sue had a great time at her early birthday party and all of her guests really enjoyed the party too.