Hog Roast Scampton are known for our fantastic slow roasted meats and perfect every time accompaniments but did you know that Hog Roast Scampton are actually completely versatile caterers. Each of our menus is listed on our website however we like to view these more as guidelines for you when creating your ideal Hog Roast Scampton menu. Every one of our chefs and catering teams are capable of creating bespoke menus to suit your needs whether that's specific dietary requirements or you simply want to add something extra- just ask and we will be more than happy to tailor our menus to you preferences.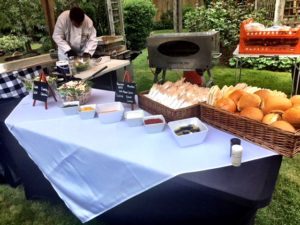 In addition to our classic hog roast menu we offer a unique take on southern American food in our 'Southern Slow Roast' menu. When you chose this menu, as Helen did recently, you get the option of three different slow roasted meats each marinated in our special secret recipe rubs and packed full of mouth-watering flavour. Whatever combination of meats you choose will be roasted low and slow for several hours leaving you with the most succulent meat that falls off the bone come serve time.
At Helens event she was holding in a marquee at her home, our catering manager Rob had the task of preparing the Southern Slow Roast menu for approximately eighty of Helens guests with a serve time of 8pm. What's truly even more special about this menu is the range of accompaniments on offer, from our classic corn cobettes that we serve smothered in butter to our Memphis style crunchy coleslaw we truly do have something to suit all tastes!
As this was Helen's fiftieth birthday, we were honoured to have been chosen to be a part of it and made sure that we served up a plate of the freshly cooked menu to Helen first for her approval. With Helen happy we got to work serving the rest of her guests. What a lovely event and happy birthday again Helen from all of us here at Hog Roast Scampton!