Recently, the Hog Roast Gainsborough team were hired by Melissa who was the wedding co-ordinator for the event. The wedding was hosted at Hazlewood Castle in Tadcaster, Lincolnshire. The venue was beautiful and the food was served outdoors for the guests under a grand marquee. The team was serving an evening buffet to the guests and so it was a slightly more casual service and the team delivered a really friendly service.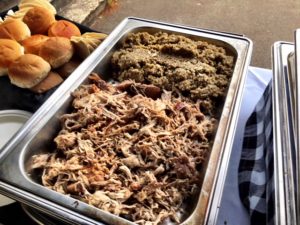 The Hog Roast Gainsborough team served a classic hog roast which featured a whole slow roasted hog which was cooked to perfection in a Hog Master machine which helped to produce fantastic crispy crackling and ensured that the meat was evenly cooked. The meat was served with complimenting sides of apple sauce and homemade classic stuffing. The Hog Roast Gainsborough team also served a vegetarian option of lightly grilled vegetable and halloumi wraps which were served with Tzatziki dip and pitta breads. The team served a selection of bread rolls and wraps as well as a selection of sauces. The meats were served in professional heated trays to ensure that the food stayed piping hot throughout the service.
The Hog Roast Gainsborough team's Catering Manager, Rob, delivered a fantastic service and the food he served up was really tasty. The wedding guests all really enjoyed all of the food and many returned back for second helpings. The buffet was served to 100 people so it was important that the team served the food efficiently so that everyone got something nice to eat. The team served the food from 8:30pm onwards and so it was important to keep the food piping hot. The Hog Roast Gainsborough team prepared and cooked all of the food on site so that it all tasted really fresh and all the meat was really tender. The service, although friendly, was really very professional and the tables were laid neatly. Melissa was really pleased with the service the Hog Roast Gainsborough team delivered and was happy that she had hired the team as it put the cherry on top for the newlyweds' big day.