The Hog Roast Lincoln team are a family based team which deliver services around Lincolnshire. They are led by the team's Catering Manager, Rob, who is usually accompanied by his wife, Pilar, who is the main chef. His children, Callum and Kat, also work as catering assistants in the business and help out at larger events.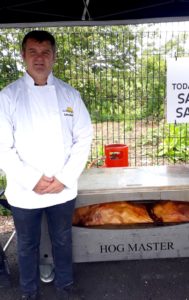 Rob has a background in the business and has built up a number of years of experience. He has worked in a variety of environments so is a really diversified chef. He has worked as a chef in army, a job in which he has catered for thousands a day. His experience in the army has helped to achieve high standards in his cooking, and has also given his cooking an air of professionalism. Serving to a large number of soldiers in a short space of time has helped to improve his efficiency, a skill which he uses now when catering at large events. He is also used to cooking large quantities of food at once while delivering a smooth service. Rob usually receives great feedback on his food and service everywhere he goes and he often gets booked repeatedly by returning clients who loved his food.
As his team are all family, they have a great bond and work really well and efficiently together. He can count on his team to have his back and he knows that all of his family members are really reliable. All of the family is really proud of their company and all are prepared to work hard to make it work. They are all very passionate about the food and love to put the cherry on top of people's events by delivering some delicious food. The team have all of the equipment and numerous machines. They have repeatedly catered all of the hog roast menus and enjoy cooking the tasty food. They are a great local team and receive some fantastic loyal custom due to their great services. Rob is really proud of how much work his family put in to the business.