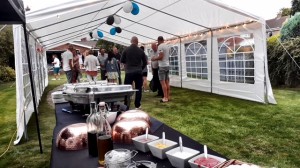 Hog Roast Messingham cater for a variety of occasions and events which includes private functions, corporate events and weddings and we were thrilled when Gary approached us and asked us to cater for around 70 to 80 people at his 20th Wedding Anniversary at his home in Messingham.  Gary wanted the Slow Roasted Hog served with fresh salads and vegetables (which is one of six menus that Hog Roast Messingham has available for this type of private party) which is a delicious favourite for many clients and which always goes down a treat.
With a wide selection of menus for all occasions, our head chef Rob takes great pride in ensuring that all of the food is always at a very high standard and that the most appropriate menu is chosen for the client; his level of work and attention to detail (and that of his team) is always evident and well presented with everything pristinely organised and at an extremely high standard that many competitors can only marvel at.  This level of detail and quality often creates fantastic feedback from guests and clients and Rob is very much in demand in the area.  This is a passion for Rob and is one of the areas that makes Hog Roast Messingham stand out from the competition; there are many good caterers out there but with the quality of food, and the skills, dedication, adaptability and professionalism of the chefs and catering team, we like to think that this makes us not just good, but great!
With a serving time of 7pm, Rob and his team arrived well before to set up their equipment in Gary's garden.  We met with Gary and confirmed that he was comfortable with our position in his garden and that the menu and food that we would be serving was acceptable – he was delighted and couldn't wait for us to set up and start serving.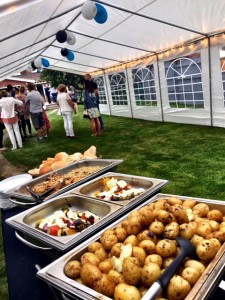 Needless to say, everyone enjoyed their food and praised highly the food, service and professional approach that we offered with many indicating that they would be recommending us to friends and family and with the client and guests happy, a proud Rob and his team quietly packed up to let the party continue.