Hog roasting is always a great option for feeding a lot of people and here at Hog Roast Mablethorpe, we know how to do it in style! Our most recent big outdoor event was at the lovely Sutton Springs site in Trusthorpe, and host Mick asked us to do the honours to feed his 500 guests whilst they enjoyed some fun in the sun! Having hired us in the past, Mick already knew how great we are at providing mega buffets for the masses, so he didn't hesitate in asking us to work our magic for him all over again!
Mick opted for one of our classic hog roasts with all the trimmings, along with veggie skewers to cater for his guests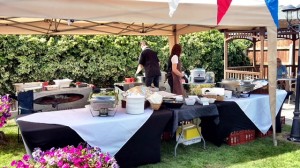 who didn't eat meat. We arranged our arrival time and what time he wanted the food to be served and it was all sorted-or so we thought! The day before the event was due to take place, we received a rather panicky phone call from Mick-he was ringing to inform us that his guest list had increased from 500 to a whopping 750! Lesser mortals would have thrown in the towel there and then at the prospect of having to accommodate and feed 250 more people than anticipated, but Hog Roast Mablethorpe's super chef Russ, took it all in his stride and assured a very stressed out Mick that we could handle it!
Russ put his money where his mouth was when he arrived at the venue the next day and together with his quick-thinking sidekick Pilar, managed to feed every single one of the 750 guests without being in danger of running out of food, or even breaking a sweat! Everyone loved the food and the event was a massive success! Mick couldn't believe we had managed to pull it off at such short notice and Russ and Pilar were deservedly inundated with thanks and praise for being so organised and flexible!
It seems Hog Roast Mablethorpe are going to be in Mick's good books for life now and after our sterling performance under pressure, he will definitely be hiring us again for his next big event! He rather sheepishly promised to give us a bit more notice next time though, if his guest list happens to sky rocket again!