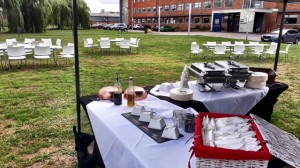 Hog Roast Skegness were delighted to be recently asked to cater by the Lincoln Science and Innovation Park at the Technology Centre for approximately 120 guests.  This place is at the cutting edge of modern scientific and technological advances in the UK with many boffins having brains the size of planets!
Hog Roast Skegness regularly caters for organisations and other corporate events and has created a selection of five menus to cater for different requirements ranging from Our Firm Favourite Classic Slow Roasted Hog in a Roll or Wrap suitable for stand-up informal gatherings through to formal events that requires sit-down service.  In this case, the client asked us to serve our traditional hog roast with our legendary veggie skewers and with mixed salad and coleslaw.  There are many catering organisations that deliver good food and service but one of the things that makes us great, is not only our outstanding food and professional service but also our ability to adapt to virtually any of our clients' requirements and we were asked to tailor the menu to cater for guests requirements which included; 120 hog roasts, 12 home-made vegetarian options, 5 vegan options, 1 option for a lactose intolerant guest and 1 for a gluten intolerant guest.  Preparation and discussion are two of the keys to our success and without this knowledge beforehand, we could have had some disappointed guests, but, so long as we know what guests' requirements are, we can always fulfil them!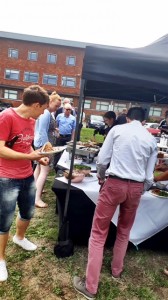 As well as catering for corporate events, Hog Roast Skegness regularly caters for private parties, charity events and weddings with varied menus to suit any occasion and in all cases, we liaise very closely with the client to ensure that all expectations are met and any specific requirements are considered.  This includes when and where to set up and, in this case, we liaised with the client for a 2pm serve and once we got set up and the delicious aromas started to waft about, the guests couldn't wait to tuck in.
All in all, it was an exceptional event with many guests commenting on how good the food tasted and the professional service that we delivered and we hope that we will be invited back in the near future for any more events.