We were west catering for our vegan friends last week with Hog Roast Langrick. We cater for these guys on a regular basis and they love our food and recommend us to all! When we arrived Jill greeted us and she left us in the big hall at the local community centre to cater. Whenever we cater for vegan or vegetarian guests we use separate machines and use these machines solely for these events.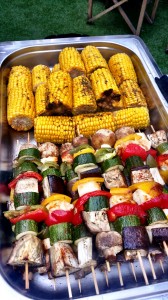 We got set with the hot food and made some vegan chicken with a tasty honey and lime sauce we then made some black been veggie burgers and we pride our selves on these! We made some creamy dill potatoes salad and lots of fresh salads and dips we love to offer a variety in all we do and we spend hours upon hours trying out new dishes to offer to our customers. We placed some corn on sticks set them on to cook last minute and then we were done. Here at Hog Roast Langrick few have a wealth of experience and nothing ever fazes us we offer first class cooking time and time again.
As Jill and the guests arrived they were covering their mouths with their hands in shock at the sight of the feast and when they tasted the food they said they had gone to heaven! The chicken was succulent and so tender and the veggie burgers an explosion of flavour on the tongue we have been told in the past. The guests filled up their plates with the food and were coming over to us asking how we made the burgers and chicken taste so good? We said experience and lots of practice as we wont offer any food unless it is exceptional. The day was a huge success and a good time was had by all we love catering for Jill and lots of the guests we know by first name too as her friends never fail to miss one of her events and tell us cheekily they only come for the Hog Roast Langrick food! We set off home happy and content another job well done!