We always find it very rewarding to be involved in an event that gives something back to the local community, which is why we jumped at the chance to cater for a recent charity dinner for 100 people. With all the proceeds from the ticket sales going to the charitable organisation, the fundraisers decided that enlisting us to conjure up one of our delightful Hog Roast Boston banquets would be sure to make the event a sell-out.
Here at Hog Roast Boston, we always work very closely with our clients to ensure we meet their requirements to the letter, both in terms of menu options and timings. Although we cook in full view of the guests, we are able to do so in such a discreet manner that we can guarantee that any speeches, musical numbers or charity auctions that may be going on in the same room, will never be disturbed by our presence. We can't guarantee that the delicious smells emanating from the succulent hog as it slowly roasts, won't get a few nostrils flickering in our direction though!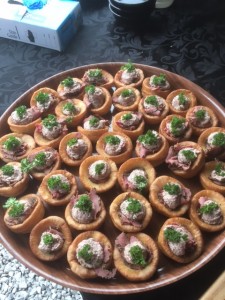 Our efficient Hog Roast Boston caterers also have an almost psychic ability to time everything to perfection. So right on cue as the guests made their way into the function room, our friendly staff were armed and ready with trays of our mouth-watering, handmade canapes. The mini-Yorkshire puddings with roast beef were one example of our selection of tasty morsels that really whetted the guests' appetites for what was to follow. With the nibbles devoured and the guests taking their seats, we turned our attention to the light smoked salmon starter. Not even a single clink of cutlery could be heard for the entire duration of the welcome speech, as we expertly prepared the next phase of the meal. Like clockwork, the hog roast was carved and served as the starters were being cleared away by our super-organised Hog Roast Boston team, without missing a beat. The charity-fundraisers thanked us profusely for our high level of professionalism throughout the entire event and for the part we played in helping them to raise so much money for a good cause.