What is it that makes a birthday unique and special? Is it the perfect gift? Friends and family? At Hog Roast Immingham, it is believed that great food makes a great birthday – as was the case last week. We cater for a huge range of events – from weddings and funerals, to corporate parties and events, but there is nothing more special than a birthday: the celebration of someone's life, a day that should be full of love, laughter, and lots of luscious cuisine!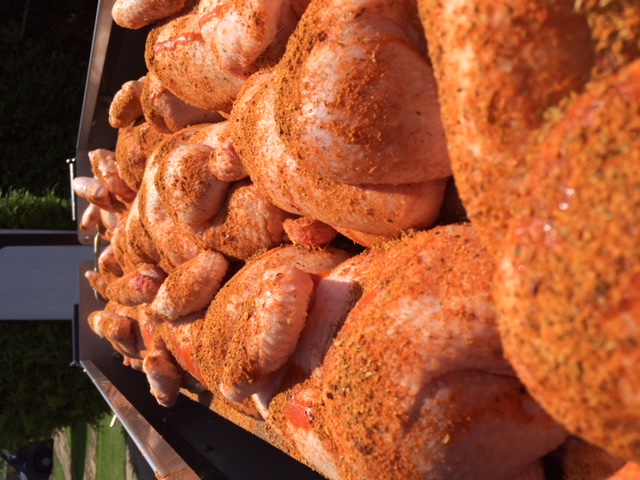 As a January baby myself, I know the struggles of being born in this cold, lonely month: the days are too short, too dark; it's too cold outside to even entertain the thought of going out and doing something. But there is nothing that cures the January blues, and chases the chill away – and to demonstrate how much someone means to you, how ecstatic you are to celebrate their life – quite like a selection of succulently slow-roasted meats with mouth-watering side dishes.
The team at Hog Roast Immingham were lucky enough to be invited to join the fun at the 18th birthday of the daughter of our client. After arranging the menu choices a few weeks prior, and settling on a selection of tender southern specialty meats (our show-stoppingly sweet and smoky BBQ pork butt; our oh-so tender Louisiana Sticky pork ribs; and our daringly spicy Cajun roast chickens), the team counted down the days – and then, they were ready to get to work.
On the birthday girl's special day, they arrived at the venue – Immingham's town hall – hours before the party was due to start, set up the marquee, and began the careful process of preparing the centrepiece for the celebrations: our delicious range of meats and the vibrant and flavoursome 'slaws and salads to accompany them. By the time the guest of honour arrived, the air was positively laden with the simply scrumptious aromas that the Hog Roast Immingham team had prepared.
The best review you can receive in this business is an empty plate – and by the time the guests had eaten their fill, our team were surprised there was anything left!