If you love great food and you're looking for caterers who provide first-class service with a smile, look no further than Hog Roast Horncastle. We've spent decades catering all kinds of social occasions, including weddings, corporate functions, birthday celebrations and garden parties, and we're known as professionals who deliver, each and every time. Regardless of the formality of your special occasion or the number of people you're inviting, we can impress your guests with fresh, homemade, tasty grub – and not only hog roasts. While we love to cook succulent hog roasts and we're well-experienced in doing so, if you need additional or alternative options, we're the perfect choice for your event.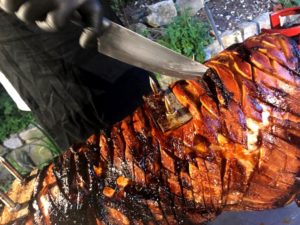 When local musician Charles called Hog Roast Horncastle to book our catering services, he wanted hog roast rolls serving to sixty guests at a party he was hosting but he also needed a vegetarian option and a gluten-free option too. We often cater for special diets and as long as we know in advance of your do, it's never a problem, and when it comes to our famous pigs in buns, they're already suitable for gluten-intolerant guests as long as we provide gluten-free bread rolls on the day. Charles was very happy to hear this as in this instance, he was the gluten-intolerant guest, and knowing he could enjoy the same food as everyone else was music to his ears.
In terms of vegetarian dishes, we can create some lovely options, fresh on the day using local ingredients, just like with the rest of our food. Our chefs can whip up a veggie quiche or burger, stuffed mushrooms or peppers or we can grill halloumi and vegetables and serve with a dip and pitta bread. Like many of our customers, Charles thought the latter would be the perfect choice for his two vegetarian guests.
On the day of the party, Hog Roast Horncastle cooked up a storm for Charles and his guests, by preparing and roasting a hog for hours on end and serving countless scrumptious pigs in buns to plenty of satisfied people, and our veggie skewers went down extremely well too.