Recently, the Hog Roast Retford team were hired by a local client, Mark, for a 50th birthday celebration. The event was hosted at a private home in Lincolnshire and the food was served inside the venue. In addition, the food was served as a buffet and was cooked on site by the Hog Roast team. The event was a complete success and the client was really pleased with the service.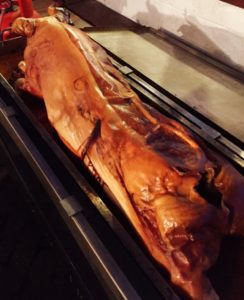 Mark selected a classic hog roast, the speciality of the Hog Roast Retford team, which was cooked to perfection in one of the team's Hog Master machines and served as the centerpiece on the buffet table. The machine helped to create some beautiful crispy crackling which was served on the buffet table. Alongside this, to compliment the meat, the Hog Roast Retford team served homemade apple sauce and stuffing. In addition, a vegetarian option of lightly grilled vegetable and halloumi skewers served with pitta breads and a tzatziki dip was served as an alternative to the meat. Bread rolls were also served on the buffet table beside a selection of sauces. The buffet food was of very high quality and the Hog Roast Retford team made sure that they upheld the high standards that their team is usually known for.
The food was served from 7:30 pm onwards so it was important that the Hog Roast Retford team cooked enough food to serve to the guests throughout the evening. The food was served in professional heated trays to ensure that the food remained warm throughout the buffet. However, it also ensured that the meat did not dry out and remained beautifully tender throughout the service. The meat was carved professionally by the Hog Roast Retford team's Catering Manager, Rob, who oversaw the service. He ensured that all of the food was ready at the same time and the buffet all came together. In addition, he also made sure that the buffet looked fantastic and all of the food looked appealing to the guests. The buffet went down really well with the guests and they all really enjoyed the food.