When you're organising a party or event, and you're thinking of booking caterers, you need to know that whom you choose will ultimately help to make it a great success. When you decide to choose Hog Roast Washingborough, you're onto a winner, in more ways than one. We not only create mouth-watering dishes from fresh, local ingredients, but we also ensure that our service is top-notch and second to none and we have many repeat customers who would testify to this.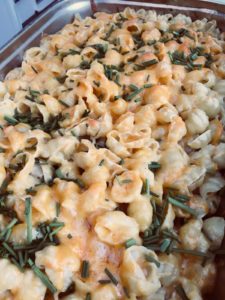 John and Carla contacted Hog Roast Washingborough not too long ago, as they were planning their wedding anniversary party, and wanted it to feature a traditional centrepiece hog roast, from which we would make delicious pigs in buns, which you may well know as hog roast rolls. The couple has used our catering services in the past, as we catered their daughter's wedding last summer, as well as two other private parties where we also cooked up a storm with our amazing pigs in buns.
For this particular party, we were asked to also provide some additional options. Whether you want a three-course menu, waiter-served drinks and handmade canapés, options for special diets or some side dishes, we can do it all, and we have various menus that you can mix and match if needed. For this special occasion, John and Carla asked us to put together some fresh salads and cook our spicy sweet potato wedges and mac and cheese and all three would be suitable for their vegetarian guests.
On the day of the party, our Hog Roast Washingborough chef and team members set up our equipment in the back garden of the family home, and got on with preparing the meat first by scoring it, adding water and then massaging in lots of salt. We soon had it cooking away and it did so for a few hours, as you can't rush a hog roast.
Later on in the day, we prepared the wedges and mac and cheese from scratch and soon they were cooking away too. By the time the 30 guests had arrived, we had prepared the tomato and mozzarella salad and the Greek salad, set out all of the ingredients for the pigs in buns and it was finally time to carve the meat and serve a great feast.