These days Hog Roast Gainsborough are kept busy with a whole host of events. From weddings and birthday parties to festivals and even corporate events, we are always more than happy to cater for any type of event our clients wish.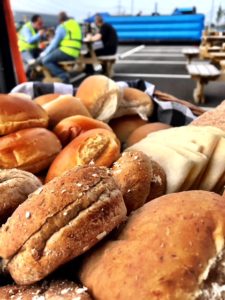 Just this week Hog Roast Gainsborough were out and about catering for a staff fun day Lidls distribution centre in Doncaster. The day had been organised by our client Jon who had booked us in nice and early to make sure we would have plenty of time to get everything organised on our end. Catering manager Rob was tasked with creating a classic Hog Roast Gainsborough for two hundred people and would be required to serve food throughout the evening from 4.30pm until 8.30pm.
Arriving at the venue, Rob and his team immediately got the roasting machine set up and meat roasting away. This is always the first job at any event as we always like to give the meat the maximum amount of time possible to cook through meaning that come serve time it simply falls off the bone. With a hog roast the longer the better which is why we always like to arrive nice and early for each of our events.
With the meat already roasting away and giving off mouth watering aromas a crowd had started to build. Unfortunately we had to send people away for a couple more hours to ensure they only tasted perfection. Next we turned our attention to the meat-free alternatives. At each event we always want everyone to feel included and that's why we like to go above and beyond with our vegetarian and vegan options- always making sure we serve only the best alternatives and don't compromise on taste. This evening we would be serving our grilled vegetable and haloumi skewers which were easily made vegan by substituting the cheese for extra veggies.
With our disposable crockery and cutlery on hand we called the guests over…