Planning an outdoor wedding in autumn is risky business and even the thought of a potential downpour is enough to turn most couples away from the idea, but Lynne and Baz aren't most couple's and the unpredictable weather wasn't the only thing weighing on their minds in the run-up to their nuptials. With less than a few months to go before the biggest day of their lives arrived, the pair still hadn't settled on a caterer to feed their 200 strong wedding party, but thankfully they were pointed in the direction of Hog Roast Goole and after talking through our wide range of event packages and menu options with our expert catering manager Rob, the couple placed a booking for our classic hog roast menu which has proven to be a firm favourite among our new and returning clients for years.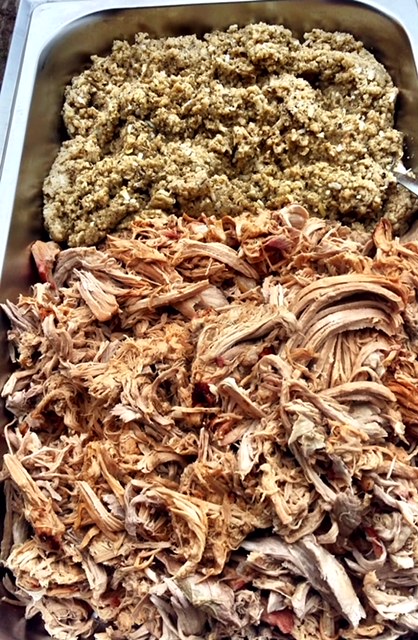 While the happy couple were busy tying the knot, the Hog Roast Goole crew made the hour-long journey to Winestead's Burgany Hall where they immediately got to work by setting up the catering gazebo on the perfectly manicured lawn and evenly scoring the whole pig before allowing it to slow roast on a bed of savoury stuffing. With the meat sizzling away, the team whipped up a selection of our increasingly popular vegetarian and vegan-friendly grilled vegetable skewers with optionable haloumi and laid out the disposable crockery and cutlery next to the condiments and soft-floured gluten-free rolls and wraps.
When newlyweds Baz and Lynne arrived at the venue with their wedding party in tow, they were still in high spirits from the ceremony and were even more delighted to discover that they had made it just in time to see the Hog Roast Goole team complete the buffet. Luckily for the loved-up pair, their huge gamble had paid off and under sky-splitting sunshine, the guests filled their plates with generous helpings of crispy crackling, spit-roasted pig and savoury stuffing which they covered in applesauce and used to fill the gluten-free rolls. With plenty of food on offer, guests were happy to return to the buffet table for second and third helpings of the delicious food and many asked for business cards for future events.