Roll up! Roll Up! Its time for another Hog Roast Louth wedding! This time however it was a wedding with a difference as bride and groom, Natalie and Jack had decided to go for a circus theme for their big day and we could not wait to attend!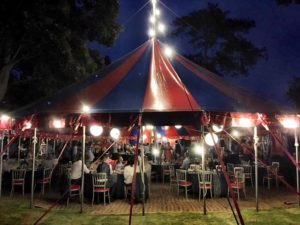 Over the years Hog Roast Louth have catered at many different events however we had to admit that this was the first circus themed wedding we had attended. If you are anything like us at Hog Roast Louth and you love films like the greatest showman and have fond childhood memories of attending the circus then you would have loved to see Natalie and Jacks big day.
We arrived at the venue mid-morning in order to get set up for the day ahead and were truly blown away by the decorations and length the couple had gone to, to stick to their theme. There was a huge circus tent which was the base for the reception and was complete with circus ring for performers and lots of circus themed games. We had been asked to cater from just outside the tent and would be required to serve food to tables indoors meaning we would be able to get a cheeky glimpse of the circus performers too!
We prepared our classic hog roast along with grilled vegetable and haloumi skewers, served with pitta breads and a tzatziki dip. There were one hundred and twenty-five guests in total and so we would be spending much of our time preparing the food and ensuring everyone was able to get as much food as they wished whilst enjoying the show.
For Natalie and Jack, the reception exceeded all their expectations and we were proud to have been a part of the fun filled day! What a show!