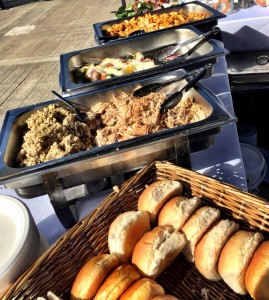 Hog Roast Gainsborough caters all kinds of social occasions both near and far, and we're often asked to provide tasty food for corporate events as well as private parties and weddings. Just recently, we catered an event for Heras, which is a Dutch-owned CRH Company that specialises in fencing and perimeter protection solutions. For this function, we were asked to provide a catering service of both food and drink for up to 100 guests at the Herons Way location in Doncaster, serving most guests a gorgeous hog roast but providing a vegetarian option too.
Our Menu 1 of hog roast rolls (which we call pigs in buns) is undoubtedly one of our most popular options, as our customers and their guests can't get enough of the juicy, tender meat and crispy, salty crackling that we produce from a locally-sourced, high-quality pig, then cram into fresh bread rolls and wraps, and top with apple sauce and sage and onion stuffing – both our own recipe. We always bring along various condiments too as sometimes all that's needed is a dollop of sauce before devouring.
For the vegetarian option, we were asked to grill veggie skewers, which is also one of our most popular alternative options. Hog Roast Gainsborough has plenty on offer, for various dietary needs and personal tastes, as we know how important it is to ensure that all of your guests are able to eat and enjoy our food. Our veggie skewers feature chunky pieces of halloumi and various vegetables such as mushrooms, courgette, tomatoes, peppers, and red onion, and always go down a treat. Plus vegans can enjoy veggie our skewers, as all we need to do is leave out the cheese.
For this corporate event, we were also asked to provide a mixed salad, coleslaw, and potato wedges, as well as a selection of carbonated and non-carbonated drinks and bottled water.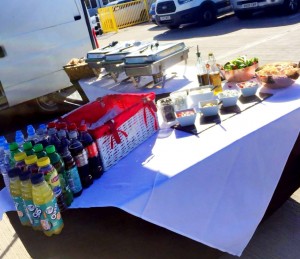 By 12pm on the day of the Heras event in Doncaster, our Hog Roast Gainsborough team were all ready to serve our scrumptious pigs in buns and delicious veggie skewers and plenty of other fresh dishes too, and we got ready in the sunshine for the queues to start.