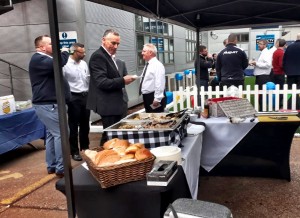 Hog Roast Scampton recently catered in Sheffield, which is outside of our usual area. We don't mind this at all and are often asked by customers to cater outside of Scampton or Lincolnshire itself, or we may do so sometimes to cover for other franchises. For this corporate event in Sheffield, we were asked to cook some lovely food for Hillfoot, which is a division of the Murray Metals Ltd group, is one of the UK's biggest steel stockholders and provides steel and other metals to its customers worldwide.
For this event with 65 guests, Kasia asked us to cook our Menu 1 of hog roast rolls and provide a vegetarian option, as well as a couple of salad dishes, When it comes to our sumptuous pigs in buns, they're our signature dish and loved by many – and with good reason. We source a fresh, top-quality hog locally, only from one of our trusted suppliers of farmers and butchers, and lovingly prepare the meat at your venue. Once scored all over and covered in water and then plenty of salt, we slowly roast for hours and hours, until we get a juicy inside and a crispy outside, and after the meat has a short rest, we then carve the crunchy crackling and tender pork slivers into trays, ready to cram into fresh bread rolls and wraps and top with our homemade apple sauce and sage and onion stuffing. Your mouth is probably watering at the sound of it!
For the vegetarian option, we were asked to grill veggie skewers, which feature halloumi, mushrooms, peppers, courgette, red onion and tomatoes, and are always a big hit. Hog Roast Scampton has various options for guests on special diets, and as long as we have advance notice, we can ensure all your guests can enjoy our food at your party or event.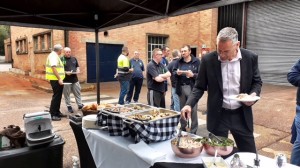 On the day of the Hillfoot function, our Hog Roast Scampton team set up our gazebo and serving tables outside, and got on with roasting the hog to perfection. Nearer to the time of service, we grilled the skewers and put together a mixed salad and our homemade coleslaw and then it was finally time to serve up some tasty food to the hungry guests.