Our Hog Roast New Boultham Catering Manager Rob and his team recently provided some truly tasty dishes for an event at Teledyne e2v in Lincoln. Teledyne e2v is a global manufacturer based in England, which designs, develops and makes components and technology systems in the areas of space, transportation, defence and security, healthcare, life sciences, and industrial markets. With products including imaging sensors, microwave devices, and microprocessors, Teledyne e2v has consistently been impressing the world of technology over the years, and has received 13 Queen's Awards for Technology so far. The company has been known under several names in the past but once Teledyne Technologies acquired e2v in 2017, their combined name became Teledyne e2v.
This particular event, held at the Firth Road Business Park location in Lincoln, was to celebrate the coming together of the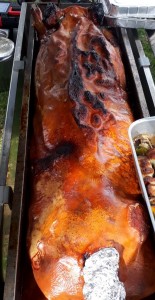 two businesses and coincided with the introduction of a new product that is said to be changing the technology of HiRel applications for the better. Steve from Teledyne e2v asked us to provide our famous pigs in buns, which are also known as hog roast rolls, and are also what we serve for our Hog Roast New Boultham Menu 1 – a highly popular option for all kinds of parties and events that we cater, from wedding receptions to retirement parties and birthday celebrations to corporate functions like at Teledyne e2v. We were also asked to cook a vegetarian alternative of veggie skewers and put together some garden-fresh salads on the day, too, so there would be plenty to go around for the 100 guests at the lunchtime service.
When it got to the day of the event, Rob and his team members arrived in the morning to set up our equipment and prepare the hog to be roasted slowly for a few hours. Some time later, while it was sizzling away, we grilled the veggie skewers, which were made up of pieces of halloumi as well as mushrooms, courgette, mixed peppers, tomatoes, and red onion. Nearer service, we made our homemade coleslaw and a mixed salad, dished up the sauces and sliced the bread rolls and by 12pm, our Hog Roast New Boultham team were ready to serve all the hungry guests.