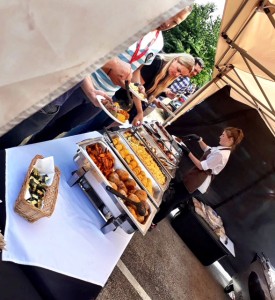 While Hog Roast Norton Disney has provided tasty food for many local events over the years, we are often needed to cater outside of our area, too, either for a customer request or to cover for another franchise. We don't mind at all as we love variety and a change of scenery! Just recently, Rosie booked us in for an event at Atos Medical at Cartwright House, which is on Tottle Road at Riverside Business Park in Nottingham, asking us to provide something a little bit different. Many of our customers ask us for a hog or spit roast, of course, but we can actually provide so much more, and on this day we would be cooking our Southern Slow Roast Menu for 45 guests.
The Hog Roast Norton Disney Southern Slow Roast Menu features several meats of your choice, all marinated and then roasted low and slow, and several accompanying dishes too. You can choose three from barbecue pork butt, Texan beef brisket, whole-roasted chickens, sticky pork ribs and spicy lamb, as well as four sides, from crunchy coleslaw, a Greek salad, corn cobettes, all-American mac and cheese, a green leaf salad or skin-on baked potatoes. If you have any dietary requirements needing catering, we can easily do this for you and your guests, and on this day we would be providing whole-roasted halal chickens with a tandoori marinade as one of the mains. WIth plenty more meat dishes to go around too, the guests would also enjoy jacket spuds, corn on the cob and mac and cheese.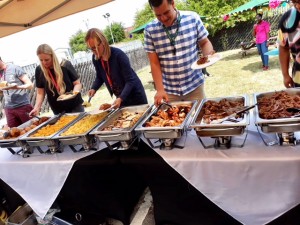 After preparing and then cooking the food for hours, our chef Rob and his team got busy getting everything else ready for the lunchtime service and by 12.15, the queues began. We had lots of compliments on this sunny day and plenty of smiles as the guests enjoyed our scrumptious offerings. Hog Roast Norton Disney loves to cater all kinds of parties and events both near and far, so if you're planning a social occasion, get in touch and see how we can make it a resounding success in terms of delicious food served by professionals.