With the glorious weather we have been having lately it would be a shame not to make the most of it. Working with Hog Roast Skegness we are lucky to be invited to cater up and down the country in all weather conditions, possible thanks to our trusty hog roasting machines and handy gazebo. However, we have to admit catering in the sun can be a lot more enjoyable!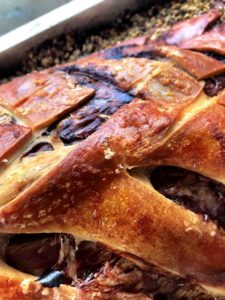 This Sunday Hog Roast Skegness had the perfect opportunity to enjoy some sun whilst providing delicious slow roasted food as we had been contacted by Sarah. Sarah was looking to organise a birthday garden party with some friends and family for her daughter Ellie's eighteenth birthday party. Looking to make the most of the spell of good weather Sarah had thought an outdoor buffet style Hog Roast Skegness would be ideal as people would be able to help themselves and sit outside to eat. We agreed that this sounded like a lovely idea and got to work planning and preparing the menu.
When we arrived at the family home on Sunday morning, we set up our tables and Hog Roast Skegness machine and quickly started preparing the food. Todays menu had been finalised as our classic Hog Roast Skegness roast. This involves our chefs cooking a hog whole in our machines for several hours allowing it to become beautifully tender whilst retaining all its moisture and flavour. After several hours the meat is ready for carving and thick slices are served up in our freshly baked bread rolls and topped with our homemade applesauce and homely sage and onion stuffing.
With sixty guests attending we also had some vegetarians and so we prepared our brilliant grilled vegetable and haloumi skewers. For the vegan option we simply added extra veggies whilst omitting the cheese. We wanted to ensure there was really something for everyone and so our chef had made some gluten free rolls earlier that day.
Finally, everything was ready for the 1pm serve time. There was just enough time to wish the birthday girl well and then we were serving all afternoon!