In addition to our classic hog roasts for which Hog Roast Grantham are known, our team of professional chefs and caterers are in fact able to slow roast any type of meat you wish. From roasted leg of lamb to a side of beef or even spit roasted chickens, our chefs will be happy to work with you to create your perfect Hog Roast Grantham menu!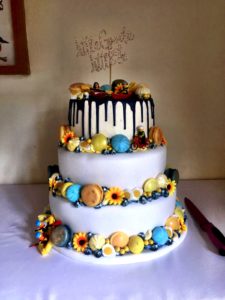 This week was another busy one for our catering teams who were working tirelessly up and down the country providing delicious slow roasted food to all our clients and their guests. One particular event that stood out was a wedding we catered at Rolleston Village Hall in Greenaway. The venue had been beautifully decorated with lots of bunting and balloons and we couldn't wait to get started cooking our Hog Roast Grantham.
For today's menu the bride and groom had opted for our classic menu four, swapping pork for lamb for a delicious roast for one hundred and twenty people. We had been given a tight schedule to work towards and a serving time of four thirty in the afternoon, just after the ceremony meaning the guests would have worked up an appetite. With this menu you get our signature slow roasted meat, in this case lamb, which we roasted whole for several hours in our Hog Roast Grantham machine. Once this was ready and lovely and succulent, we served it up with some gluten free lamb and dill gravy, roasted potatoes, Yorkshire puddings and lots of seasonal vegetables. Additionally, our chef was able to create some fantastic vegan kebabs and some vegetable and halloumi kebabs for the vegetarians meaning everyone was going to be well fed!
After serving we discretely packed away and left out a few of our business cards in addition to the leftovers that guests would be helping themselves to as the reception continued into the night.