You may or may not have already noticed that traditional-style hog roasts have become an increasingly popular way for people to celebrate their birthdays and various other social events – not that we're complaining! There's just something about a classic roast with all the extra trimmings that seems to make special occasions feel a little more, you know, special.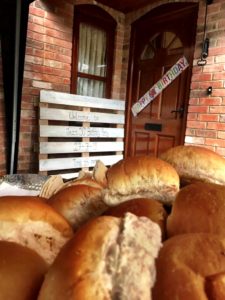 Last month, our friendly catering team at Hog Roast Horncastle received a call from Jez who wanted some help in throwing an awesome 50th birthday party at a private home in Nocton. With a guest list of 60 people to cater for, Jez was determined to make sure that there was enough food and drink available to meet everyone's needs. Fortunately for him, catering manager Rob has hosted plenty of similar events in his years spent in the industry, so he couldn't have been in more capable hands.
Comforted by the fact that he wouldn't have to worry about a thing (after all, who needs the added stress on their birthday of all days?), Jez was able to sit back, relax and let Hog Roast Horncastle take on the responsibility of providing his friends and family with a slap-up meal. Choosing from our extensive menu, he selected our very popular classic hog roast with an added option of vegetarian skewers for non-meat-eaters and a side of warm new potatoes, mixed salad, golden chips and juicy sausages – all to be served on our environmentally friendly wooden crockery.
With the sun beating down on Nocton and temperatures soaring into their mid-twenties, Jez's guests were in good spirits when they arrived to help him celebrate his 50th birthday in the early afternoon. Rob being on hand to serve the party of 60 from under the cover of his gazebo kept the atmosphere buzzing, and by the time early evening rolled around, all that was left to show of the buffet was clean plates.
We've recently heard back from Jez who wanted to thank Rob again for making his monumental birthday everything he hoped it would be, and he's already planning to call upon the services of Hog Roast Horncastle in future.