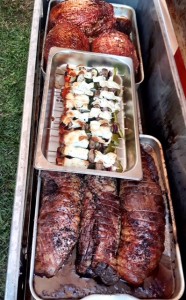 Hog Roast Mansfield recently catered a fantastic 30th birthday party, where a hundred guests enjoyed our very popular Southern Slow Roast menu, which is all about variety. Our chef Rob and Pilar served several dishes at the milestone celebration, including rosemary roasted lamb, pulled pork with crackling and our homemade stuffing, as well as brisket of beef, which all went down a treat with the carnivores, but we also provided some lovely veggie skewers for the vegetarian guests. By combining halloumi with tomatoes, mushrooms, peppers, and onion, we create a mouth-watering alternative meal which always proves to be popular with vegetarians and it can also be made vegan by not adding the halloumi.
On the day of the birthday party, Hog Roast Mansfield arrived at the venue in the afternoon in order to start slowly roasting the meat dishes. With this menu, the meats are marinated in our secret recipe rubs and then slow-roasted at a low temperature for hours. You can choose from several meats, which are accompanied by some yummy sauces, including Jack Daniel's Smokey Sweet Barbecue Glaze, a super-spicy Cajun hot pepper sauce and Stubb's Hickory Bourbon Legendary Bar-B-Q Sauce. We also include side dishes with this menu, and you get to choose four from our Memphis-style crunchy coleslaw, a Greek salad, corn cobettes with butter, an all-American mac and cheese, a green leaf salad, spicy sweet potato wedges or skin-on jacket potatoes. As you can see, this menu is full of variety and choice and has something for everyone, especially when you add a veggie option like the skewers that we served on this day. We love to make sure that all your guests enjoy our food, no matter their preferences or dietary needs.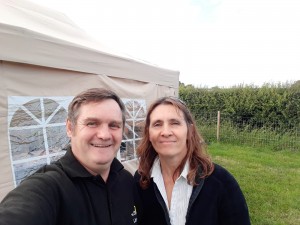 By 8pm, it was finally time to serve lots of delicious food to the hungry hordes. The queues started and we carved away and dished up and served until everyone was full and satisfied. Hog Roast Mansfield received some lovely compliments from the guests about the food at this party, about how fresh and tasty it was, which is always a delight to hear, and just what we aim for.