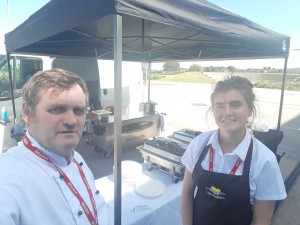 Regardless of the type of occasion that you're organising, Hog Roast Barton-upon-Humber can help you to make it a great success with delicious food cooked and served by knowledgeable professionals. We have catered all kinds of parties and events over the years, including birthday celebrations, wedding receptions and corporate functions, but these days a hog or spit roast is suitable for anything that you want to celebrate or commemorate. We use fresh, local ingredients to create appetising dishes that you and your guests will all enjoy, and that includes non-meat eaters and those with dietary needs too.
We were recently asked by Catherine to cook our Menu 1 of hog roast rolls at Kingswood Academy in Hull plus salads and an additional option of veggie skewers for the vegetarian guests. We can also make the skewers vegan by omitting halloumi and we offer other choices for special diets, too, so that everyone can enjoy our food at your event. The school venue, Kingswood Academy, has event spaces for hire, where up to 500 guests can be accommodated, and you can even book a bouncy castle party, bubble football or a movie party. This school certainly offers plenty of choices for locals and their party needs. For this particular party, Catherine asked us to cook a hog roast for 80 people.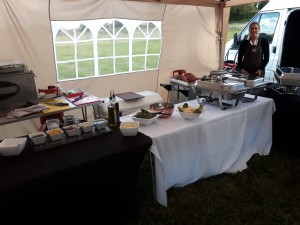 On the day of the event, our chef Rob and his Hog Roast Barton-upon-Humber team set up the gazebo and equipment underneath sunny skies, and prepared the meat for its roasting. Before cooking, the meat needs to be scored, covered in water and then we massage in plenty of salt in order to make the crunchy crackling. Once done, we cook the hog slowly but surely for several hours, until the insides are soft and tender and the outside is browned all over and crispy.
Hours later and the hog had cooked beautifully, and we had laid out the salad dishes, coleslaw, and some lovely sauces, as well as plenty of rolls to make pigs in buns. By 3.30pm, Hog Roast Barton-upon-Humber got ready to serve the hungry guests some of our really tasty food.