At Hog Roast Retford we believe there's only one way to celebrate Halloween and it involves succulent cuts of meat, sweet applesauce, freshly made bread rolls; and let's not forget that golden layer of crispy crackling! Yes, there truly is no better way to mark the spookiest day of the year than with one of our delicious hog roasts, and for this year's festivities, our talented catering team was invited to Sheffield to help The Rose and Crown restaurant pull off their annual party.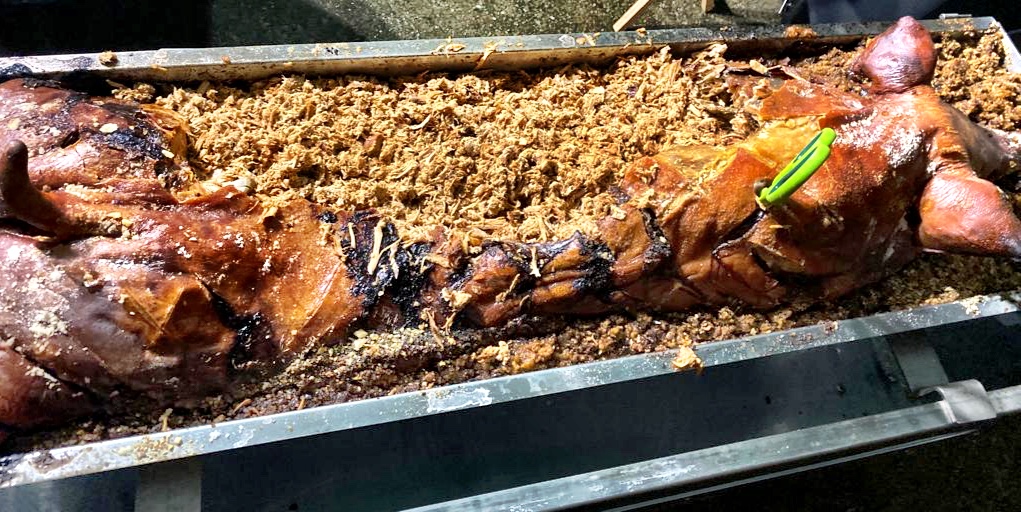 Having booked plenty of entertainment and good grub for the evening, The Rose and Crown sold out of their 200 tickets almost immediately and with lots still left to do before the fancy-dressers descended on the venue, catering manager Rob led the Hog Roast Retford crew to the restaurant bright and early to begin preparing the Halloween feast. Since the marquee had already been pitched by the restaurant staff the night before, the catering team were able to throw themselves into cooking right away and before long enticing scents of spit roasted pig and grilled vegetables filled the air.
With less than an hour to spare before the guests arrived, Rob and the team quickly added the finishing touches to the buffet table before assisting The Rose and Crown staff with hanging the themed decorations; and finally, with the DJ blasting the classics and the fire breathers and stilt walkers making their rounds it was time to celebrate.
Arriving guests were in awe of the mesmerising circus acts and in between carving pumpkins for the Jack O' Lantern contest and strutting their stuff on the makeshift catwalk for the best costume competition, they made sure to fit in enough time to try out the dishes from our mouth-watering classic hog roast menu. With a variety of food on offer from pulled pork and tender carvings of meat; to mixed chips and the vegan and vegetarian-friendly alternatives of grilled vegetable skewers with optionable haloumi, there was something on the menu for everyone to enjoy and by the time the event drew to a close, there was little left to show of the buffet.