With our dedicated, highly-trained Hog Roast Cumberworth experts at the helm of your next party or event, you can be sure of delicious food made out of high-quality, fresh, local ingredients and great service as well. We're also easy on your pocket and fully understand the need for choice and variety these days, so regardless of the type of special occasion that you're planning, we can make sure that everyone you invite gets to enjoy tasty food made by professionals who care.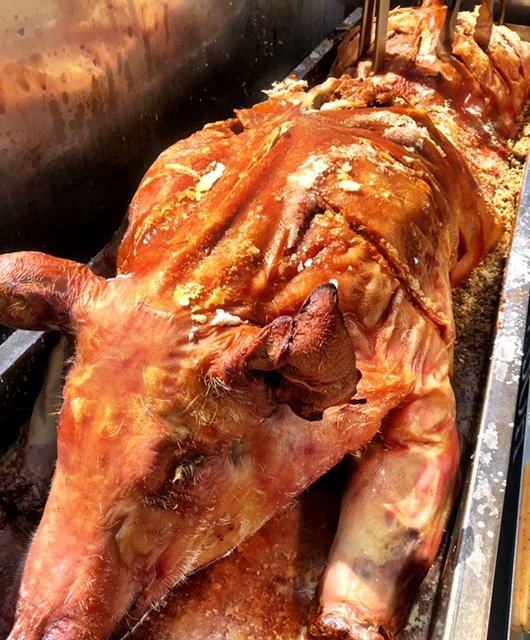 We are often asked to cater milestone birthdays, wedding receptions, charity events and so much more and we're often asked to provide additional or alternative dishes. If you're thinking of a menu with multiple courses, we can make homemade canapés, starters, sides and desserts, and you can mix and match items between our menus if needed, or we can help you to create your own menu from scratch. If you need alternative meaty dishes, we can slow-roast chickens or turkeys or a hunk of lamb or beef, and special diets can also be easily catered. Whether you're inviting vegetarians, vegans or guests with a gluten intolerance or allergy (or any other diet), just let us know when you book and our chef will prepare a tasty, suitable, homemade dish on the day.
If you are considering something a little bit different, one of our Hog Roast Cumberworth speciality menus could be just the ticket, like our Loaded Fries, where we add beef or pulled pork to fresh-cooked fries and top off with melting cheese and your choice of slaw, or our Southern Slow Roast, where you choose three marinated meats to be slow-roasted and served alongside four side dishes. Whatever you have in mind, we will do you proud.
Hog Roast Cumberworth catered a corporate function on Friday, where we were asked to cook a hog roast so that we could make our amazing pigs in buns, as well as wedges and coleslaw. After the meat sizzled away for hours on end, we filled fresh bread rolls and wraps with hot, tender meat, crackling, apple sauce and stuffing, made the yummy sides and by 3pm, it was time to serve.