Anyone who went to a British primary school will understand the joy of a sports day. As a child, there is so much anticipation and excitement for the day itself. From taking part in races for your team to having a day off lessons, there was so much to be excited for. For many children, having their parents come and watch them race is also a big part of it- and for the parents too! It's not unusual to see parents welling up at seeing their child winning the race or even just seeing them try their hardest is enough to make any parent proud. When we were asked by the local primary school to come and cater at their school sports day it was an offer we couldn't refuse!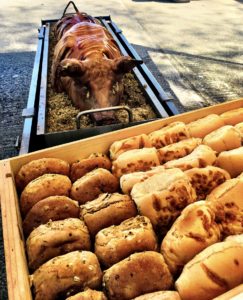 We arrived onto the playing fields punctually for 9am just as school began to get prepared for our Hog Roast Cleethorpes. The sports day officially began at 10am and would run through until approximately 3pm and so we were needed to provide a hearty lunch around midday to keep everyone going for the afternoons races. As we were catering for a large group of people we knew we would be needed to provide a crowd pleaser. With no hesitation we knew that our Hog Roast Cleethorpes rolls would be our best bet as they are popular with both adults and kids alike. These rolls require us to roast a whole hog low and slow for several hours so it is a good job we got here early!
With the final race before lunch complete, we had just finished carving the hog and before we knew it we were surrounded by kids and parents all desperate for a taste of our food. To be fair to them they had had to put up with the mouth-watering aromas of our hog roast all morning and so you can't blame them for being eager.
With everyone getting their fill, we started to discreetly pack away, leaving the leftovers with the headmaster so he could pass them onto the winning team…