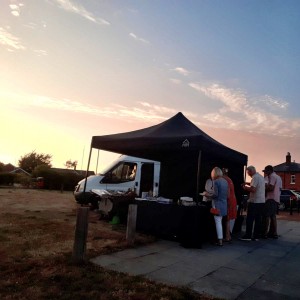 Hog Roast Navenby has spent many years now catering all kinds of events and parties, and one which is very popular is the milestone birthday. Every birthday is a gift, as they say, but a milestone such as a 21st, 40th or 80th is always extra-special and even more deserving of a special treat, just like a centrepiece hog sizzling away for hours and filling the air around you with mouthwatering aromas.
For Emma's 60th birthday celebration recently, Hog Roast Navenby was asked by Alma to provide our sumptuous yet simple Menu 1 for 120 guests – that's our pigs in buns, or hog roast rolls as you might know them. To create these culinary masterpieces, we arrive at your venue a few hours ahead of service, as we need to start preparing the meat and then we slow-roast it for ages until perfectly crispy on the outside and soft and juicy on the inside. After a short rest, the crackling is carved off and we slice into the meat and fill fresh bread rolls or wraps with bits of both, add a dollop each of our homemade duo of apple sauce and sage and onion stuffing, and then the pigs in buns are ready to be devoured – although we always bring along condiments too, in case yours isn't perfect without a bit of sauce added.
We were also asked to provide a veggie option for this party, which we can always do. We have various options for vegetarians and vegans, as well as ones for gluten-free guests, and if you give us advance notice, we can ensure all your guests get to enjoy our food. For this party, we would be making our very popular veggie skewers, which feature delicious pieces of halloumi, tomato, mushroom, pepper and red onion.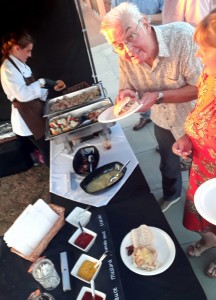 On the day of Emma's 60th party, our Hog Roast Navenby team arrived several hours before the 8.30pm service and soon the hog was roasting away. As our Chef Rob commented, 'At the going down of the sun we shall feed them!' and so we did, satisfying dozens of hungry guests outside, as the sun went do