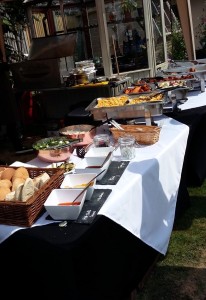 Here at Hog Roast Tealby, we've always thought that food presentation plays an important part in our catering business. When it comes to culinary aesthetics, there's nothing more appealing than a centrepiece hog that's been roasted slowly for hours and hours, the skin turned to crunchy crackling and the insides all moist and tender and ready to be devoured. Nevertheless, we ensure all of the other food that we provide looks as good as it tastes too. From the main courses to the sauces, and even to the way we display our serving trays, we make everything look appealing to your eyes as well as your stomach.
Hog Roast Tealby was recently asked by Susan to make our scrumptious Southern Slow Roast Menu for a party held at her home, with 50 guests invited. While we are renowned for our amazing hog and spit roasts, we often provide other dishes and we have several menus full of variety. Though you can mix and match items from our menus if you prefer, sometimes one of our standalone menus is perfect as it is, and for this event, that would be the Southern Slow Roast, which features several meat mains and several accompanying dishes of your choice.
You can select three meats, all of which are marinated and then roasted slowly at a low temperature, from barbecued pork butt, Texan 24-hour beef brisket, Cajun-spiced whole roasted chickens, Louisiana sticky pork ribs that fall off the bone and spicy Creole pulled quarter of lamb, which are accompanied by three yummy sauces – Jack Daniels Smoky Sweet BBQ Glaze, a hot Cajun pepper sauce (which is not for the faint-hearted!) and Stubbs Hickory Bourbon Legendary BBQ Sauce. You can also select 4 side dishes, from Memphis-style coleslaw, corn cobettes, mac and cheese, a seasonal green leaf salad, a Greek salad, spicy sweet potato wedges and jacket potatoes.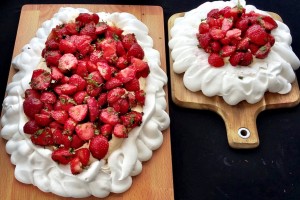 On the day of Susan's party, Hog Roast Tealby Chef Rob and his team roasted a gorgeous trio of meats – beef brisket, Cajun chicken and pork ribs, complemented by some lovely sides such as mac and cheese, coleslaw and salad, as well as fresh, floury bread rolls. We also provided our delicious desserts of strawberry vacherins and sticky toffee pudding and everything looked as fantastic as it tasted.