If you're looking for event caterers in the North East who can add the wow factor to your special day, look no further than Hog Roast Hull. We've been specialists in wedding, private party, and corporate catering for many years now and our experienced, professional, dedicated team are known for providing both great service and delicious food. From the time that you first contact us with your catering requirements to the end of the day when we're clearing away, you're certainly in the best hands.
For Nicola and Lee's wedding day at West Carlton Country Guest House in Hull, we were asked to provide our popular Southern Slow Roast Menu for 110 guests, to be served on real crockery. This menu features several meats and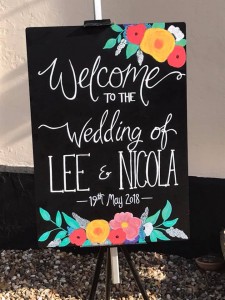 side dishes for you and your guests to enjoy, and in this instance, all the adults would be served this menu, while the 20 children would be served hot dogs and wedges in cones. We're passionate about offering variety here at Hog Roast Hull, so if you check out our menus and decide you want something a bit different, feel free to ask us. While we have many menus to choose from, we don't mind you mixing and matching or asking us to provide something else where possible. We even have plenty of dishes to choose from for any guests with dietary needs, such as vegan or gluten-free.
On Nicola and Lee's special day, it was a gorgeous day for an outdoor wedding. The grounds at the back of the house were decorated beautifully with lights and lanterns and there was a lovely big marquee from Village Farm Marquees that had lit chandeliers and fairy lights hanging down over the guests. There was even a children's soft play area in the form of Liquorice Allsorts on the dance floor! Our smart gazebo and serving tables fit in well and didn't look at all out of place at this lovely venue.
By 2pm, it was time for the guests to queue up for some meaty heaven. Once the main had been served, Hog Roast Hull served Nicola and Lee's stunning wedding cake alongside berries and cream. It was such a fantastic day, that we didn't want to leave!