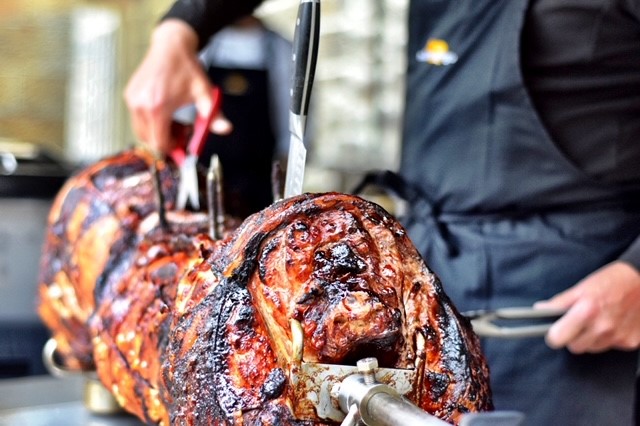 The Hog Roast Scampton team have spent many years making the people of Scampton very happy with our superior quality hog roasts. Not only are we considered to be the best hog roast supplier in the area, we have gone on to become a very diverse catering company with a wide range of menus suitable for all occasions, tastes and budgets. We are continually developing our menus to ensure they appeal to contemporary diners and we exceed everyone's expectations time and time again.
We aim to please as many people as possible with our food, which is why we make our menus as diverse as possible so that even if some of your guests are not huge pork fans, they will still love our food. Taking this into account, we also offer a wide choice of different slow-roasted meats and an ample supply for vegetarian and vegan options, as well as being able to modify any of our dishes to cater to specific dietary requirements.
Hog Roast Scampton Unbeatable Food, Unforgettable Flavours
The quality of our pork and the scope of our menus makes Hog Roast Scampton the ideal catering choice for any type of occasion in the area, including birthday parties, christenings, wedding receptions and corporate entertaining, as well as large outdoor community events and local festivals.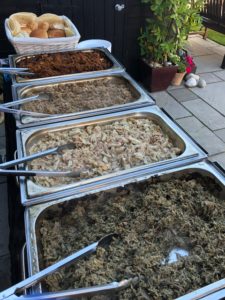 We offer everything from our classic hog roast sandwiches, which are always the ultimate crowd pleaser, to varied buffets and  more formal 3 course meals, depending on the occasion and your individual requirements. Regardless of your choice of menu or the location of your event, we will always prepare everything from scratch at your venue on the day using only the best locally-sourced ingredients, including any extras such as canapes.
The style of service we offer is just as flexible as our wide ranging menus. If you would prefer a more informal buffet, our friendly and attentive team will happily chat to your guests as they decide which delicious dishes they would like to try and provide support as required. If you are planning a more formal occasion however, we can provide front of house and waiting staff who will provide full service from the moment you arrive.
If you want high quality and full flexibility, you will find everything you need here at Hog Roast Scampton.