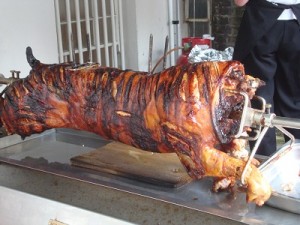 The county of Lincolnshire certainly has a lot to offer both the people that live here and the tourists that come to visit – lush, green open wide countryside edged with an impressive 50 miles of coastline, and we at hog roast Lincolnshire have been travelling top to bottom across this lately, providing our hog roast catering services for all manner of occasions. We've been serving up some lovely delicious meals and buffets for anniversaries, weddings, retirements, you name it! We were recently hired to cater for a very nice couple who had just bought a beautiful house named Dolly directly from the breeder in Ireland where she enjoyed the countryside over there too she now lives in the heart of rural Lincolnshire and great to handle. They had been living and working in the USA for a few years and were now "back for good," as they put it. Jen, the lady of the house, was originally from Boston in south Lincolnshire and admitted she had been feeling a bit homesick over in The States and there is no place like home. They decided they wanted their two young children to go to school here in the county in which their mum had been raised. "I have so much to show them," she said. "I want to take them to all the fun seaside resorts on the Lincolnshire coast that I just loved so much as a child!" Jen and her husband Matt called on our pig roast Lincolnshire team to provide a stomach warming buffet as a treat for a lavish house warming party they were throwing to celebrate their homecoming a great excuse for a roast an even better excuse for a Lamb spit roast!
Bespoke Hog Roast Catering Packages
We worked very closely with the couple to put together a bespoke package to suit their tastes, and those of their 80 guests including things like a gluten free option and also a vegetarian option for those that do not eat lamb and soft floured bread rolls that come along side them. The evening consisted of a formal hog roast Lincolnshire outdoor buffet with a marquee for their large, landscaped garden which covered the machine the catering staff and the serving tables where the dishes were placed, and as the guests arrived our waiters served glasses of chilled champagne and a delightful selection of canapés: pate en croute, feta skewers, tiger prawns and smoked salmon. We had set out the dining tables for the guests with crisp white tablecloths, crockery, silverware and glasses and once everyone was seated, the main attraction was revealed: the spit roasted lamb, infused with rosemary and served with mint and the softest warm new potatoes. Jen had also requested some gourmet Lincolnshire sausages, which our chef prepared with pleasure. "Now I'm home!" a delighted Jen said when she took a bite. To follow, the guests had a choice of zingy lemon tart or an individual cheesecake with strawberries and, of course, as much cream as they wanted to adorn their dessert with a drizzle of strawberry sauce. Then it was time for more glasses of sparkling chilled champagne and then a toast to Jen and Matt in their wonderful new home.
Full Professional Catering Services
Later on in the evening, as our hog roast hire Lincolnshire team had cleared away all the empty plates, cutlery, crockery, tablecloths and tables and were busy packing up their equipment into the van, I could hear Jen excitedly telling her friends and family about all the places around Lincolnshire she wanted to see this year. "I have to visit the Lincolnshire Christmas Market, and I've got to go for a bike ride on the Fens," she said. "Oh, and after those delicious sausages the chef made for us this evening, the Lincolnshire Sausage Festival is a must this year!" We love it when everyone enjoys the food we supply we always hear comments from the guests and this event was no different that surprisingly it is there first time trying the spit roasted lamb and they commented on how different it tasted than oven cooked, the meat was so moist with its own juices it had been basting in and because of the result the machine created we managed to even receive a few enquiries from some of the guests in regards to hog roast hire Lincolnshire catering at there up and coming events so a few business cards were requested to contact us after the event great news for us of course!