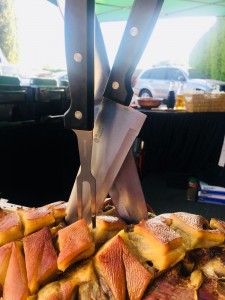 Did you know it's over 50 years since the last pig drive took place through Grantham town centre? It was a tradition that took place every single year from 1755, until it was finally phased out in 1962 – but nowadays it's up to our hog roast hire Grantham team to fly the flag for pigs! Grantham has many annual events that take place here that attract visitors from far and wide to attend and take part in the fun and games that seem to bring a smile to everyone's face yearly.
From the Pages of History to the Table
I'm delighted to report that our hog roast Grantham style catering just so happens to always go down a storm with the guests around this part of Lincolnshire, so in time we hope to make some history of our own! Talking of history, Grantham is famous for a whole host of reasons: for example, it is the birthplace of Britain's first woman Prime Minister, Margaret Thatcher, whose childhood home was above her parent's grocers shop which is quite interesting. It's also noted for being the first town in the world to recruit and train female police officers also a great fact about he town. And let's not forget, of course, the celebrated physicist Sir Isaac Newton, who went to The King's School right here in Grantham. He's the one who, legend claims, saw an apple fall from the sky and it prompted him to discover the theory of gravity. On the other hand, whenever I see an apple, I am usually sizing it up to see if it's suitable to be made into a sweet apple sauce to accompany one of our succulent hog roast Grantham spit roast pork buffets, but then, everyone's different, aren't they! If there's one thing I often think defies gravity, though, it's some of the plates I've seen piled high with slices of steaming hot freshly roasted pork that our eager buffet guests are savouring.
Delicious Food Cooked to Perfection
Nothing puts a smile on the face quicker than a plate packed with delicious food and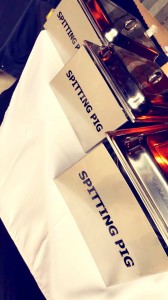 hog roasted food makes it that little bit better too. At one of our lovely wedding buffets in Grantham this spring, a hungry young guest held on to his plate with both hands as our hog roast hire Grantham chef carefully served up slice after slice of tender roast pork that had been soaked in pork juice to make it even more flavoursome and moist, accompanied by soft warm English grown new potatoes. "Oooh it looks absolutely scrumptious I am going to eat every last crumb, it is as high as St Wulfram's spire!" the little boy said, as his eyes grew wider at the sight of the full plate of food that he had piled up the scent of pork filling the air. But even though he was just nine years of age, the little chap polished off his meal in no time with no sign of hunger left on his face –yet he still went back for more succulent meat has got to be one of the most tender creations out there is defiantly irresistible! We've catered for a number of happy couples over the years who were married at St Wulfram's this past year too weddings are my favourite; it is a beautiful looking church and a landmark here that we are rather proud of in Grantham.
The Perfect Compliment to your Wedding Catering
It makes the perfect setting for wedding photos, too. But wherever people choose to tie the knot, or hold their wedding party, we'll gladly fit in. We've set up our pig roast Grantham catering equipment in marquees which are weatherproof meaning they will keep the rain and the wind out have decided that it is safer to bring these to every event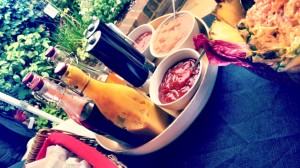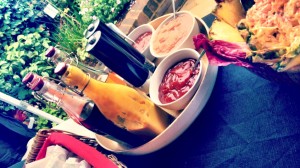 we stick them in the back of the van if not needed because you never know which way that the weather may turn with English weather one minute it can be sunny and the next it can be raining with thunder , hotels, pubs, houses, the list goes on, and we've plenty of menu options to choose from. You could say that, in many ways, our hog roasts are like weddings – they both take time to prepare, they create a sense of occasion …and the chef wears white! But seriously, we at Spitting Pig Grantham always endeavour to make sure that the menu options chosen for each event are a match made in hog roasting heaven!