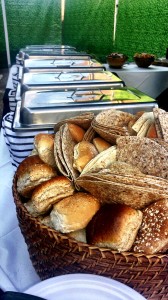 Hog roast Gainsborough is doing what we can to create the best hog roast experience that you will remember for years to come and we succeed in doing this, we make it our highest priority to guarantee superlative quality produce which is also locally sourced from our local farmers. Gainsborough is a beautiful scenic place with a lot to offer with a great little market place in the heart of the town where local businesses can thrive with the support of the local community, speaking of support there is a small football team that are called Gainsborough Trinity F.C. who are a semi-professional club which is great for a quiet town and gives them something to be proud of as a community and it is also a good way to keep the young ones in shape when training for the try outs every summer. After a renovation to the riverside in 2000 it boosted the tourists that visited Gainsborough as it granted access to the riverside, since 2001 they have been holding an event in June called Gainsborough Borough Festival which is an annual arts and heritage event. Gainsborough has a great little Christmas market which is in aid of the local community, which is great with plenty to do and street performers to keep people attending entertained.
From Fetes To Weddings – A Hog Roast For Every Occasion in Gainsborough
Hog Roast Gainsborough has had the good fortune to cater for a vast amount of events in Gainsborough from fetes to weddings there is something for everyone with a choice of different meats like perfectly roasted pig, sirloin of tasty beef, fresh free range chicken, turkey and lamb with a wonderful mint and dill sauce cooked to perfection on a spit and served how you like it. We even offer a great BBQ menu with sausages that are handmade non of that supermarket stuff, burgers created with fresh beef mince meat, chicken kebabs full of flavour and even a scrumptious array of canapés so obviously our menus are flexible and customizable to exactly how you would like we can take bits away and add items to them to create the perfect menu for you to enjoy. All of our chefs are fully qualified hog roasters and have years of experience so you know you're in good hands and will have nothing to worry about when your guest begin to arrive all you need to do is sit back relax and enjoy yourself and some wonderful food, and with our top of the range machines to ensure that your food is cooked at the right temperature and so you know what you get is quality who wouldn't want to cook our great produce in such a high standard machine, our machines are built to the highest standard and have gained our trust over the years because they have never let us down at any event that we have participated in.
Try A Hog Roast For Your Next Event. You Will Not Be Disappointed!
When thinking of someone to cater for your celebrations why not give us a try here at hog roast hire Gainsborough with our years of expertise and knowledge we are sure to make your event an extra special one and one to remember for years to come you will not regret it, we can guarantee the best service and the best quality food for you so why not wow your guests with an amazing hog roast hire Gainsborough or even a excellent BBQ just choose from all of our extensive menus with plenty of canapés to tantalize anyone's taste buds there has to be something that surely anyone would like we have a great wide selection to choose from and even a couple of vegetarian options for your pallet. If you are looking to book someone that you can be confident in to hit the spot with customer satisfaction then email or call us because you have come to the right place but make sure you do it soon as we are now in very high demand and its hard keeping up with this continuous work load that we , so do the right thing and get in touch with our helpful team as soon as possible now before it is too late. Our range of puddings are quite a treat too so why not add a little extra to your menu by adding a sweet treat for your guests you have the option to have one pudding option or two or if you have a sweet tooth you can even choose three, so why not enquire with us to avoid disappointment nothing goes down better than a pig roast Gainsborough style.